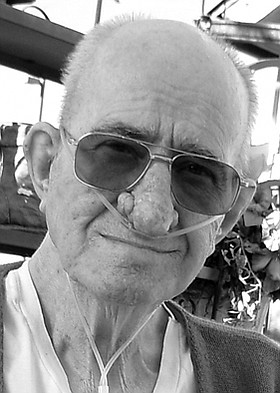 Everett Udell Bloom
Lewiston, Idaho
July 18, 1935 - March 31, 2015

Everett Udell Bloom, 79, died March 31, 2015. He was born July 18, 1935, to Harvey and June Bloom in Kimball, Neb. In his younger years, he swam, camped and rode his bicycle all around the McCall and upper Payette Lake area. He has told many stories of him riding his new bicycle, a Schwinn Roadmaster, he bought for $49.95 with his own money working for 35 cents an hour. He enjoyed riding it down to New Meadows to swim at Zims Hot Springs at the age of 13.
He also enjoyed cross-country skiing at Little Brundage ski hill. He graduated in 1954 from McCall High School. He and Rosie Dunn were married in 1955. He worked at Brown Tie and Lumber in McCall and Tamarack Lumber Mill in Tamarack, Idaho, driving a lift truck.
He moved to Riggins in 1964 where he worked at Salmon River Lumber, driving logging truck, later moving to Lewiston in 1980 and started working for Excel Transport, retiring in 1998. Everett drove truck for more than two-million miles with no accidents, and that he was pretty proud of. He enjoyed riding his motorcycle with Savage Cycle Motorcycle Club, of which he was president. They rode in the Seven Devils and surrounding area and put on many races and hill climbs. He owned five Harley Davidsons, one of which was a 1938, and many other motorcycles in his lifetime.
He enjoyed camping, fishing, bird hunting and drinking a cold beer.
He is survived by his wife of 59 years, Rosie (Dunn) Bloom; their three children, Troy (Brenda) Bloom from Bonney Lake, Wash., Renee (Rod) Henderson from Kalispell, Mont., and Randy (Shana) Bloom from Scappoose Ore.; four grandchildren; and four great-grandchildren; as well as his sister, Marquita (Dee) from Boise and many nieces and nephews. He was preceded in death by his parents, and one granddaughter and his fishing, drinking buddy and brother-in-law, Cliff Dunn. He will be missed by his family and many friends.
In keeping his final wishes, no formal ceremony will be held. There will be a private gathering at a later date.