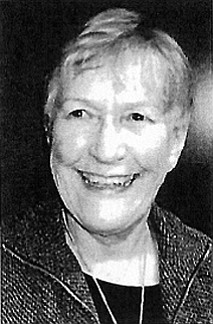 Mildred May (Keith) Asker
Grangeville, Idaho
March 6, 1931 - March 31, 2015

Mildred May (Keith) Asker, 84, a lifelong resident of Grangeville, joined her God as she peacefully passed away March 31, 2015, at Syringa Hospital following a courageous two-year battle with cancer. Milly was born March 6, 1931, to Hugh Melhuish Keith and Mildred Whyman Keith in Grangeville, Idaho.
She is survived by her husband and best friend, Jerry after 64 years of marriage; brother, Hugh Wayne and wife, Patricia of Sun City, Ariz.; children, Kerry and husband, Paul Yuasa of Kirkland, Wash., Kevin and wife, Nancy of Grangeville, Idaho, Karyl and husband, Dan Masters of Colbert, Wash.; brother-in-law, Bill Asker and wife, Bonnie of White Bird, Idaho; six grandchildren, Alicia, Justin, Ryan and wife, Michelle, Eric and wife, Kelli, McKenzie and Megan; four great-grandchildren; and several nieces and nephews.
Her education consisted of 12 years in Grangeville public schools, where she graduated as salutatorian of the class of '49, followed by one-and-one-half years of college at LCSC in Lewiston, Idaho, formerly known as North Idaho College of Education.
Those were the years following the Depression, with many poor families. In those years, you made do with what you had, including playing outside from dawn to dusk with neighborhood children. There were no local hospitals, everyone was born at home. Sunday school picnics were major events.
Mildred's love of music came from listening to her sisters (now deceased), Ruth Elaine and Betty Ann, who were 10 and seven years older. Her musical ability enabled her to go to college on music scholarships. In later years, Milly taught many children piano, organ, voice and musical appreciation.
Mildred's many church activities in her lifelong membership in the Grangeville United Methodist Church included choir director, junior choir director, pianist and organist. She was active on many church committees such as MWF, PPRC and the Methodist Church board of trustees.
Her community activties included Jaycettes, Girl Scout leader, Snowhaven ski instructor, PEO, Camas Choristers, Syringa Hospital Board of Trustees, Syringa Foundation Board and Hospital Thrift Store volunteer.
Mildred was married to Jerry Asker at the Methodist Church by Reverend Lavern Tooley on June 17, 1951, followed by a honeymoon at a Red River ranch. That ranch was enjoyed at family activities for many years of ranch visits.
Mildred assisted Jerry in the operation of Asker's Supermarket for several years after it was constructed in 1975. Fun activities were held, together with many trips abroad, cruises, years of skiing at resorts all over the northwest, river float trips, backpacking and years spent camping with family.
Known for her thoughtfulness and consideration for others, Milly had many, many friends in her life and will be missed by all.
Cremation has taken place and, as requested, with her ashes to be scattered at Red River. A celebration of life and memorial service will take place Saturday, April 25, 2015, at 2 p.m. at the Grangeville Elks Lodge.
A great deal of appreciation is held for the fine work by Syringa Hospital Hospice. The entire staff was very helpful during the final months of Mildred's life. Memorials may be made to the Grangeville United Methodist Church at 404 West Main or The Syringa Hospital Hospice at 607 West Main. Arrangements are under the direction of the Blackmer Funeral Home. Send condolences to the family to Blackmerfuneralhome.com.