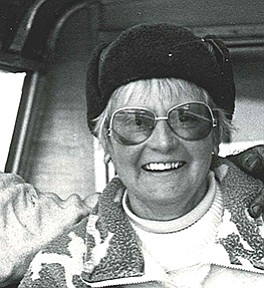 Marcelline A. Beitelspacher
Puyallup, Wash.
September 14, 1925 - April 13, 2015
Marcelline Ann Beitelspacher, age 89, lost a long battle to Alzheimer's disease when she died peacefully in her sleep April 13, 2015.
She was born Sept. 14, 1925, in Hoven, S.D., to Barbara and Leo Illies. It was a large Catholic farming family of 15. On Oct. 7, 1943, she married Albert Beitelspacher. Marcelline and Albert farmed and ranched eight long miles from Seneca, S.D. It was a tough time in hard ground with lots of bad weather. They lost the farm to the banks and in 1952 left for a more hopeful life in sunny southern California with three children, Ronnie, Bonnie and Luella. Son, Ricky was born there. Marcelline worked there as a telephone operator, waitress and cook and as a supervisor at the Hunts-Wesson cannery. In 1979, she and Albert retired to their son's property near Mt. Idaho, outside of Grangeville. Her husband, Albert passed away unexpectedly in February of 1981.
Marcelline was very active in her beloved Catholic Church, attending many Deanery meetings and serving as a Eucharistic Minister for Sts. Peter and Paul's Catholic Church in Grangeville. She delivered Holy Communion to those unable to attend Mass, who were bedridden in their own homes or in the hospital or nursing home. She looked forward to her time with her Grangeville Garden Club friends. She and the garden club were instrumental in the passage of legislation to prevent littering of Idaho's roads. Marcelline's list of things to do was always very long. Forever busy with her craftwork, her Mr. and Mrs. Santa Clauses were popular craft fair products that helped to supplement her income. Her home is still full of boxes of pieces for future projects.
When she wasn't out for her morning four-mile walk that most called a sprint, her attention in the family orchard was always needed and she provided her friends and family with many jars of canned fruit, jams and pies. Her gift sacks of Christmas cookies usually held enough to feed a small army. Ron Johns especially loved her bountiful Christmas and Thanksgiving dinners with her special mashed potatoes, gravy and too many desserts. A successful hunter for deer and turkey, she was especially proud of her Heckman Ranch elk taken with one shot from her muzzleloader in her 66th year. Her busy hardworking life was occasionally interrupted for her solo driving trips to family visits in Minnesota and South Dakota or to Puyallup, Wash., to see her most beloved grandsons, Paul and Chris.
Preceding her in death were husband, Albert; granddaughter, Diane Beitelspacher; brothers, Leander, Silverius, Joseph and Raymond Illies; sisters, Thrasilla Larson, Kathryn Roesler, Bernie Nash and Rose Ann Larson.
Survivors include her sisters, Irene Raymond, Lucille Roeder, Caroline Haase, Charlotte Greise; children, Ron and wife, Linda Beitelspacher, Grangeville; Bonnie and husband, Mike Smith, Clearwater; Luella and husband, Howard Bice of Anderson, Calif.; Rick and wife, Kim Beitelspacher and their sons, Paul and Chris, Puyallup, Wash.; granddaughter, Janet Beitelspacher; great-grandson, Marcus, and Janet's husband, Brian Auer; and children, Kasch, Wyatt and Abbi of Clarkston, Wash.
The last years of Marcelline's life left her absent of the real world, for Alzheimer's is a thief of reality and recognition of the present. But the memory of her strength, energy, kindness, capability and wisdom will live on and be sorely missed by those who knew and loved her.
There will be a Rosary at 12:30 p.m. on Monday, April 20, followed by a 1 p.m. funeral Mass at Sts. Peter and Paul's Catholic Church in Grangeville and a burial ceremony at the Grangeville Cemetery. Malcom's Brower-Wann Funeral Home of Lewiston will be in charge of arrangements.