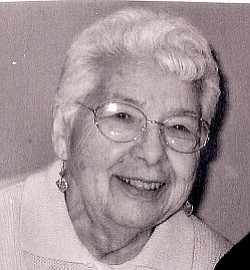 Shirley L. Kimmel
Grangeville, Idaho
July 4, 1929 - April 7, 2015

Shirley L. Kimmel, 85, of Grangeville, Idaho, went to be with Jesus, April 7, 2015. She was born in Trout Creek, Mich., to Mini and Mose Webber on July 17, 1929. She married Melville Kimmel on Sept. 23, 1950. Shirley enjoyed being a wife and mother to her two daughters, Carla Kimmel and Pam Gordon. In her younger years Shirley worked as a nurse, and after retiring worked as an in-home healthcare provider.
She had many hobbies including quilting, baking and almost every craft. Shirley had been active in her church, helping in the kitchen on all occasions when her willing hands were needed. She also helped with the Miracle Mountain Children's Camp.
Shirley is survived by her husband, Mel, at their Grangeville home; their daughter, Pam (Gary) Gordon of Graycourt, S.C.; a grandson, Damon (Sandy) Gordon; as well as nieces and nephews.
She was preceded in death by her parents, four sisters, three brothers, her daughter, Carla Kimmel, and a grandson, Justin Gordon.
Memorial services will be held on April 18 at 11 a.m. at the Grangeville Gospel Tabernacle followed by a potluck luncheon. Memorials can be made to the Gospel Tabernacle. Many thanks to St. Mary's and Grangeville Rehab staffs for their precious care of our loved one. Arrangements are under the direction of Blackmer Funeral Home, Grangeville.