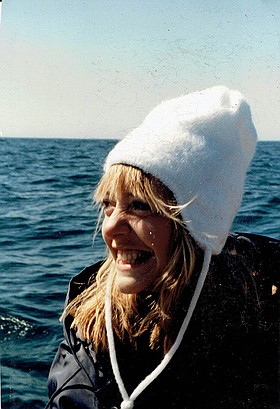 Angela Rose Eimers
Hillsboro, Ore.
December 16, 1964 - unknown
Angela Rose Eimers, 50, was born Dec. 16, 1964, at 98th General Army Hospital in Neubrücke, Germany, the first child of Sandra Pratt Eimers and then 2nd Lt Garth Eimers. She lived in Germany until age 3-1/2 when first coming to the USA. For the next two years Angela lived with her mother in Grangeville, Idaho, and they divided their time between Angela's paternal grandparents, Paul and Dorothy Eimers, and her maternal grandparents, Ralph and Belle Pratt. During this time her father served in Vietnam as a captain with the Green Berets. Upon her father's return, she lived many places with her family, moving coast-to-coast, and eventually settling in Forest Grove, Ore., where, in 1983, she graduated from Forest Grove High School.
Previous to high school graduation Angela graduated from Barbazon School of Modeling in Portland, Ore. Modeling to pay for college expenses, she then attended Oregon State University, where she was a member of Alpha Delta Pi sorority. Angela also was a licensed real estate agent listing, selling and managing properties. As a licensed and bonded general contractor, both new construction and renovation and remodeling of derelict properties were accomplished.
Angela's inherent, natural gift was being a talented artist, painting many homes — inside and out — with a specialty of creating whole wall or whole room murals using stencils. Choosing a variety of media, Angela was an extremely creative artist, using unique craftsmanship with any media. Working by commission, her clients would wait patiently for months for her to create a special effect for their project.
For the past 15 years Angela resided in Hillsboro, Ore. She died of "natural causes" stemming from a long-term, rare liver disease. Prior to the onset of this debilitating illness, outdoor activities were a favorite participation. She particularly enjoyed hiking, camping, fishing and whitewater rafting, especially with her brother, Eric, and two special cousins, Zane Pratt and Chelsey Pratt Banta. Favorite times were visiting family, spending time with relatives and friends in Grangeville and at the Pratt ranch on the Old Stites Road. An avid gardener and preparing meals as an outstanding chef were other enthusiastic activities.
Angela is survived by her father, Garth (Wendy) Eimers of North Plains, Ore.; her mother, Sandra Pratt Eimers of Grangeville, Idaho; a brother, Eric, of Portland, Ore.; two uncles, Steve (Margie) Pratt of Grangeville, and Kirk (Helen) Eimers of McCall, Idaho; four cousins, Chelsey Pratt (Shane) Banta of Grangeville; Zane (Brooke) Pratt of Horseshoe Bend, Idaho, and Bart and Tara Eimers of McCall; plus many, many other extended family members.
Her love of animals — especially dogs and cats, wonderful culinary delights, and her sweet ways endeared her to many people, family and friends.
At a future date there will be a celebration of life for Angela.