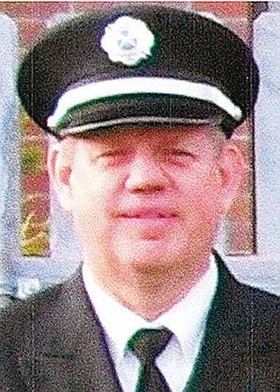 Douglas M. Gregg
Lewiston, Idaho
May 12, 1958 - April 15, 2015
Douglas M. Gregg, 56, passed away April 15, 2015, of complications of ALS or Lou Gehrig's disease.
He was born May 12, 1958, to Philip and Betty Jean Gregg in Grangeville, Idaho. Growing up, he always loved working with the cattle and always took steers in 4-H. After graduating from Grangeville High School in 1976, he left for the U.S. Air Force as a Fire Protection Specialist until 1980.
He joined the Lewiston Fire Department Nov., 15, 1980. He rose through the ranks of firefighter, engineer and captain, and was a basic EMT, advanced EMT and paramedic. He spent more than 10 years assigned to an ambulance. He loved being in the basket on the ladder truck and helping people. Shortly after starting at LFD, he met Mellody Nuxoll and they were married in Greencreek on Dec. 19, 1981. They had two children, Bryan and Jennifer. He enlisted in the Idaho Army National Guard as a combat airman in June of 1982 and retired December of 1997. He served the Potlatch Corporation Fire Department from 1988 to 2004 as a firefighter/EMT and the U.S. Forest Service as an EMT and incident medical specialist from 1988 to 2014. He joined the Asotin County Fire District #1 as a firefighter/EMT in 2012 until his passing.
Doug had a passion for firefighting and to serve his country and community. He was a great father, hard worker and will be remembered by many for always having a smile on his face and living and breathing the fire department.
He is survived by his wife, Mellody Gregg; son, Bryan Gregg; daughter, Jennifer (Richard) Bolon; sister, Lenora Gregg; brothers, Eric and Robert Gregg; and grandsons, Braeden Dammerman, Anduin and Bryson Gregg.
A memorial service was held Monday at All Saints Catholic Church with a burial and luncheon following.
Doug was allergic to flowers, so in lieu of flowers, make contributions to ALSA.org or to PVA.org.