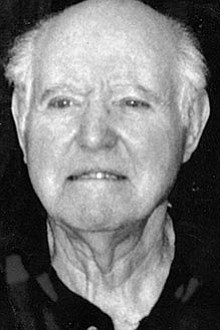 Ernest Stanley Chase
East Wenatchee, Wash.
October 2, 1926 - April 15, 2015
Ernest Stanley Chase, 88, of East Wenatchee, Wash., went to be with Jesus on April 15, 2015. He was born Oct. 2, 1926, in Stites, Idaho, to Stanley and Goldie Chase. He went to grade school in Stites, then moved to Craigmont, Idaho, for the ninth and 10th grades and then moved to Lapwai where he graduated from high school. He was in charge of the trail crews for the Forest Service at the age of 16. He attended Northern Idaho College for a year and joined the Army in 1946 and was honorably discharged in 1947.
He worked at Potlatch as a clerk in the pres-to-log department for six years. He also worked with his dad in his carpentry business. He married Juanita Parsons on Aug. 4, 1951, and had four sons, Mick, Lonnie, Larry and Paul. They moved to Cloverland, Wash., where he worked for Lester Parsons. During this time they attended the Lewiston First Assembly of God church where he served on the church board. His wife, Juanita, passed away on Aug. 4, 1960, from breast cancer leaving Ernest with four little boys. Ernie's mom, Goldie Chase, moved in with him to help raise the four boys until he married Diana Teats, in a one-room church at Locksaw Log Cabin Motel, on May 9, 1964. They had two children together, Nita and Kalvin.
They moved to Genesee, Idaho, where he worked in farming for Winston Mader. In 1969, after one year they moved to Riggins, Idaho, where he started working in ranching. In 1975, he moved the family to the Rapid River subdivision and went to work for the Idaho County Road Department until retiring in 1989. While living in Riggins, they attended the Assembly of God Church there where he again served on the church board for more than 20 years. In 2000, he suffered from a stroke and was diagnosed with cancer. Then in 2001 he lost his wife, Diana, to breast cancer. In 2006 due to some ongoing health issues, he was no longer able to live alone. He then moved to E. Wenatchee, Wash., to live with his son, Larry, for two years; then later moved to an assisted living facility.
Ernie always said that the best thing that ever happened to him was after he was discharged from the Army – because he accepted Christ as his personal Savior. Through the good and the bad the Lord was always the center of his life.
He is survived by sons, Mick (Janet) of Killeen, Texas, Larry (Debbie) of E. Wenatchee, Wash., Paul (Shelley) of Quincy, Wash., Kalvin (Lindy) of Boise, Idaho; daughter, Nita (Steve) Campbell of Malta, N.Y. He is survived by 16 grandchildren, Jeff (Lauren) Chase, Kristen (Rusty) May, Dallas, Texas, Cara (Hanley) Booth, Caylon (Josh) Harmon, Larissa (David) Budreau, Platte City, Mo., Matthew (Jasmine) Chase, Vancouver, Wash., Eric (Helen) Chase, Quincy, Wash., Jason Chase, Wenatchee, Wash., Greg (Ali) Wells, Seattle, Wash., Kelly Wells, Quincy, Wash., Michael (Kristi) Campbell, Boise, Idaho, Benjamin Campbell, and Alex Campbell, Malta, N.Y., Kody Chase, Linden Chase, and Laughlin Chase, all of Boise, Idaho; and 14 great-grandchildren; a sister, Eleanor Fleming of Alaska; and several nieces and nephews.
He was preceded in death by his father, Stanley Chase; mother, Goldie Chase; two wives, Juanita Parsons and Diana Teats; son, Lonnie Chase; sisters, Norma Harris, Jean Cravens and Edna McPherson.
Services will be at Riggins First Assembly of God Church in Riggins, Idaho, on April 25 at 10:30 a.m. Graveside services to follow.