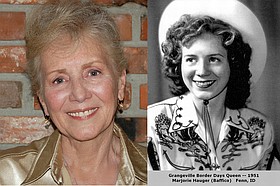 Margery Ann Baffico
Los Altos, Calif.
August 15, 1934 - December 22, 2014
Margery Ann Baffico, 80, passed away peacefully, surrounded by her family on Dec. 22, 2014, in Los Altos, Calif. Margery was born on Aug. 15, 1934, to Richard and Marie (Rojan) Hauger in Fenn, Idaho. She spent her childhood years growing up on a farm with her parents and seven brothers and sisters, as well as her great-aunts, Addie and Anne Von Berge. She loved animals, especially horses, and was an accomplished equestrian. In 1951, she was the Grangeville Border Days Queen and the following year was the Lewiston Roundup Queen.
After graduating from Grangeville High School in 1953, she moved to San Francisco, Calif. There she worked as a fashion model, did live television commercials, and was also a ballroom dance instructor. In 1958, she married Edward Baffico, Jr., a stockbroker from an Italian-American family in San Francisco. In the following years, they had two children, Gina and John. While raising their family, Margery enjoyed volunteering at her children's schools, and studied interior design and oil painting. She and Ed enjoyed raising registered Hereford cattle and also bred and raced quarter horses.
In 1975, Margery and her family moved to the Camas Prairie. Through the years she was involved in politics, volunteered for numerous charitable organizations and had a successful career as a real estate agent and farmer. She loved gardening, fine cooking, and entertaining family and friends and was always a gracious hostess. One of her favorite things to do was sharing her love and knowledge of animals with her children and grandchildren and raising many different types of animals on her farm.
Margery is survived by her daughter, Gina and her husband, Scott; and granddaughter, Francesca, of Los Altos Hills, Calif.; grandson, Johan and his wife, Justine, of Kirkland, Wash.; four sisters, Joan Wren of Boise, Adele (John) Woodworth of Brigham City, Utah, and Janet Shira, and Nancy Marek of Grangeville; two brothers, Jon (Liz) Hauger and Paul (Julie) Hauger of Grangeville; sister-in-law, Gayle Hauger of Grangeville; and numerous cousins, nieces and nephews. Margery also leaves behind her devoted friend and companion, "Duke," her German Shepherd.
Her son, John Baffico; brother, Richard Hauger, Jr.; brothers-in-law, George Shira and Jack Marek; and parents, Richard and Marie preceded her in death.
A memorial to celebrate Margery's life is planned for Saturday, May 2, at 11 a.m. at Sts. Peter & Paul Catholic Church in Grangeville, Idaho. Inurnment will follow at Denver Cemetery. A reception for family and friends will be held following the graveside services at Oscar's Restaurant.
Memorial contributions may be made in memory of Margery Baffico to the Stanford Cancer Institute in Stanford, Calif.
Services are under the direction of Blackmer Funeral Home, Grangeville.