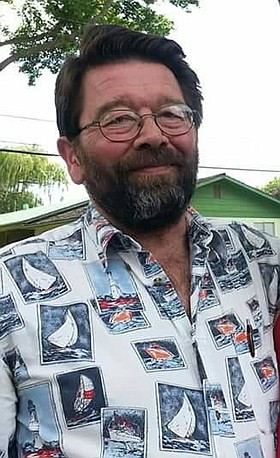 Joseph G. Seubert
Cottonwood, ID
December 22, 1959 - April 19, 2015

Joseph G. Seubert, 55, was suddenly taken from us in a traffic accident on Spalding Bridge on Sunday, April 19, 2015.
Joe was born on Dec. 22, 1959, in Cottonwood, Idaho, to Raymond Seubert and Regina Uhlenkott Seubert. Joe was Ray and Jeannie's youngest child, joining his older sisters, Mary, Laura Lee and Virginia (Ginger). Joe attended school in Cottonwood and graduated in 1978 from Prairie High School where he served as president of the student body in his senior year. Joe then pursued his studies at Lewis Clark State College where he met the love of his life, Angela Adamson. Joe and Angela were married on May 31, 1980, at St. Stanislaus Church in Lewiston. Joe and Angela started their family soon thereafter and were joined by their son, Adam, in 1981 and their son, Clinton, in 1985. Joe and Angela's family was made complete with the birth of their daughter, Regina, in 1992.
Joe was a successful businessman throughout his long career. At the start of his career, Joe joined his father, Ray, as an agent at the insurance agency started by his grandfather, August M. Seubert, Seubert's Insurance of Cottonwood. The 100-year anniversary of the agency's founding was celebrated in March 2015, only one month before Joe's untimely death. Under Joe's direction, the agency grew to also include offices in Kamiah and Nezperce. After his father's death, Joe concentrated the agency's focus on their customers in and around Cottonwood. Additionally, Joe operated the Idaho Liquor Store in Cottonwood for more than 20 years.
A lifelong resident of Cottonwood, Joe was involved in a wide range of civic affairs throughout his life. As a young man, he served in the Cottonwood Jaycees, the Cottonwood Volunteer Fire Department, the Cottonwood Lions Club, and the Kamiah and Nezperce Chambers of Commerce. Joe was a skilled public speaker and was the public announcer for the Idaho County Fair Parade and Buggy Whip Festival in Cottonwood for more than 20 years. While in college, he worked as a weekend DeeJay for 4-K Radio in Grangeville and had the distinction of announcing that the weather was "dark" on the Camas Prairie after the eruption of Mount St. Helens in 1980.
Joe was a devoted Catholic since childhood and his efforts centered on his faith later in his life. He was involved in countless ministries at St. Mary's Catholic Church, but his passion was sharing his faith with new people joining the church. After leading St. Mary's RCIA program for several years, Joe's thirst for knowledge led to his and Angela's enrollment in the Diocese of Boise's four-year program of formal faith formation, Servant School, through which they made many dear friends from all around Idaho. Joe graduated from Servant School in 2013 as a lay ecclesial minister. The course of study was identical to that completed by those to be ordained by the church as a deacon. Joe purposefully chose not to be ordained. He was employed as the director of adult education at St. Mary's Parish at the time of his death.
Joe is survived by his beloved wife, Angela Seubert of Cottonwood; and her parents, Larry and Karol Adamson of Lewiston; son, Adam Seubert, his wife, Karin, and their daughters, Elizabeth, Eleanor and Evelyn of Lewiston; son, Clinton Seubert, his wife, Kari, and their daughters, Kirah and Sophia of Lewiston; daughter, Regina Seubert of Boise; sister, Mary Seubert, and close family friend, Debbie Tysel of Spokane, Wash.; sister, L.S. Laura Lee Seubert of the Little Sisters of Jesus, currently of Anchorage, Alaska; brother-in-law, David Denz of Greenwood, Ind.; five nieces and nephews, and a large extended family. He was preceded in death by his parents, Ray and Jeannie Seubert; and his sister, Dr. Virginia Seubert-Denz.
A memorial scholarship to the Servant School has been established in Joe's honor. Donations may be sent to the Joseph G. Seubert Servant School Scholarship, Diocese of Boise, 1501 S. Federal Way #400, Boise, ID 83705.