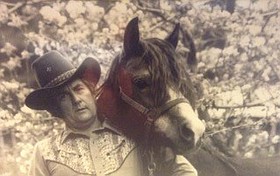 Ralph Wayne Bass
New Meadows, Idaho
October 19, 1937 - April 23, 2015

Ralph Wayne Bass, 77, of New Meadows, Idaho, passed away in the early morning of April 23, 2015.
Graveside services were held at the New Meadows Cemetery in New Meadows on April 27. Funeral arrangements were handled by Heikkila Funeral Chapel of McCall.
Ralph was born in Boise, Idaho, on Oct. 19, 1937. He graduated from Cascade High School.
Ralph was married to Shirley Hibbard on Oct. 8, 1961. They were married 53 years. The two knew each other from childhood when Ralph would throw rocks at the little curly-haired girl wearing a dress. It was meant to be as Francis would tell her son, Ralph, every time the little girl walked by their house, "There goes the girl you should marry." Ralph and Shirley had many adventures together, worshiped together, and raised their children together. Family, faith and friends were the cornerstones of Ralph's life.
Ralph's love was horses and he had the opportunity to work with them most of his life as a packer and a guide in various places in Idaho, including Chamberlin Basin, Big Creek, Rapid River, Meadows Valley, Elk Creek and the Seven Devils. He never met a horse he did not like. He raised colts, pulled pack strings, and trained and drove teams of horses.
He enjoyed hunting, fishing, golfing and breaking horses. He also enjoyed ministering to people of all faiths and backgrounds. He shared the power of God's healing grace with many people.
Ralph is survived by his wife, Shirley; son, Shaun and daughter-in-law, Laree; daughters, Michelle and Melissa; eight grandchildren, Jeremiah, Blessing, Seth, Jake, Jesse, Promise, Kaleb and Kaleala; eight great-grandchildren, Boston, Isabella, Stetson, Lindsey, Kaylee, Anthony, Elliauna and Dayla; and other family (Shauna, Wyatt, Amy, Patti and Jeff); and many friends as well as his dog, Minie.
Ralph was preceded in death by a brother and sister; his father, Ralph senior; and his mother, Francis of Council, Idaho.
Ralph lived adventures most can only dream about. As many people have said on this very sad day, "he was quite a guy." He was strong of faith and strong of spirit.