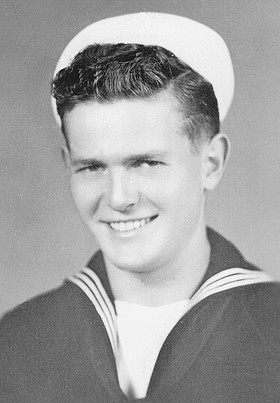 Robert "Bob" Louis Kaufmann
Grangeville, Idaho
June 29, 1929 - April 24, 2015
Robert Louis (Bob) Kaufmann, 85
Riggins, Idaho
Robert (Bob) Louis Kaufmann, 85, passed away April 24, 2015, at the Grangeville Health and Rehabilitation Center.
Bob was born June 29, 1929, in Stites, Idaho, to Robert J. Kaufmann and Julia Thompson Kaufmann. He went to grade school and high school in Stites, graduating in 1947. He joined the Navy in 1948 and was honorably discharged in 1952. He married Hilda Hoogland Oct. 20, 1951, at the Great Lakes Naval Base.
Bob worked as a bookkeeper for Stegner Grain and Seed for 20 years. He went on to work for Dye Machine as a bookkeeper. Later he became a part owner of Dye Machine retiring and selling his part of Dye Machine in 1994.
He and Hilda enjoyed hunting, skiing and traveling the world.
Bob is survived by his wife, Hilda at the family home; two children, Peggy (Terry) Williamson, Victor, Mt., Ray (Peggy) Kaufmann, Grangeville; five grandchildren and 10 great-grandchildren.
He was preceded in death by his parents, Robert and Julia Kaufmann; his daughter, Sallie; and his favorite uncle, Tom Detwiler.
The family thanks Dr. Hollopeter, the staff at Syringa Hospital and the staff at Grangeville Health and Rehabilitation for their compassionate care. They would also like to thank Judy Brackelsberg for her years of dedicated companionship and care.
Cremation has taken place. As per his request there will be no services.
Arrangements are under the direction of the Blackmer Funeral Home, Grangeville.