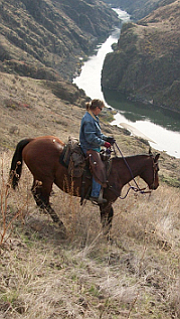 Teena VonBargen
Cottonwood, Idaho
November 9, 1957 - unknown

Teena VonBargen, 57, was born Nov. 9, 1957, to Delbert and Maralee Cochran. She was raised on the Salmon River ranch and Doumecq plains, the two places she loved the most. She graduated high school in Cottonwood and attended college at L.C.S.C.
After marrying Mike they bought the ranch they call home. Teena worked several jobs through the years always involving animals. She kept busy with kids, ranching, and her love of horses. She never missed an opportunity at adventure! She could cook breakfast, break a colt, bale hay, mend a shirt, and skin a buck all before the day's end. She loved spending time with family, riding horses and working cattle.
Teena could always be counted on for encouraging words. She always "looked at the glass half full." She loved anything to do with her family and never missed an opportunity to brag about them.
Teena is survived by her husband, Mike; children, Joe and Jamie and Jill and Cody; grandchildren, Ethan, Chase and Maddy; brothers and sisters, Tim, Todd, Terry and Jennifer, Tonya and Joe, Eydie and Greg and Mandy and Nick; and several nieces, nephews and cousins.
She was preceeded in death by her parents and mentor, Maurice Shinn.
Services will be held Wednesday, Aug. 12, at St. Mary's Church in Cottonwood. Rosary will be at 10:30 a.m., funeral to follow at 11 a.m. A celebration of life will be held after at the Cottonwood Community Hall. Services are under the direction of the Blackmer Funeral Home, Grangeville. Send condolences to the family to Blackmerfuneralhome.com.