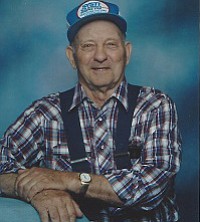 Herman E. Konrad
Stites, Idaho
October 26, 1934 - August 10, 2015

Herman E. Konrad, 80, beloved husband, father, grandfather, brother, uncle and friend, passed away on Monday, Aug. 10, 2015, at St. Joseph Regional Medical Center in Lewiston of a stroke.
Herman, the youngest of five, was born to the late Ludwig and Charlotte Konrad on Oct. 26, 1934, at their family home in Harpster, where he was raised and attended school. Growing up and working on the family ranch taught Herman from a young age the value of hard work and family.
He met the love of his life, Marjorie Cash, whom he married on May, 29 1953, in Asotin, Wash. Herman and Marjorie then had five children together, which they raised in the Clearwater Valley.
Herman was an avid outdoorsman. He loved hunting, fishing and gardening. He never turned away from hard work. He provided a wonderful home and upbringing for his family and always said, "Work hard now, there will be plenty of time to rest when we leave this world," and that he did until his last days.
He owned and operated his own logging company as well as Mallard Creek Outfitters, where he guided other outdoorsmen on hunting trips. When he retired, work wasn't done, spending his days haying and maintaining the family ranch.
Herman loved the mountains so much that he and Marjorie built a cabin on Mallard Creek for the whole family to enjoy. They spent their free time at the cabin with their kids, grandchildren and friends.
He is survived by his children, Teressa Hazelwood of Lewiston, Wanda Agee of Stites, Roberta Hendren of Kamiah, and Deana Kennedy of Henderson, Tenn.; eight grandchildren and 17 great-grandchildren.
He was preceded in death by his wife, Marjorie; his only son, Bryan; all his siblings and parents.
He will greatly be missed by all close to him.
A graveside service was held in Grangeville, at the Prairie View Cemetery on Saturday, Aug. 15. Potluck dinner followed at the Eagles Lodge. Arrangements were under the direction of the Blackmer Funeral Home, Grangeville. Send condolences to the family to Blackmerfuneralhome.com.