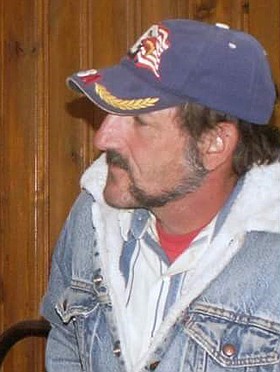 John Christina (Chrysostumus) Sarbacher
Kooskia, Idaho
March 25, 1965 - August 14, 2015

Fifty-year-old John Sarbacher of Kooskia, Idaho, died at St. Joseph Regional Medical Center in Lewiston, Idaho, on Aug. 14, 2015. He was born on March 25, 1965 in Grangeville, Idaho, to Wilbert A. and Beverly L. Redmond Sarbacher.
He attended school in Kooskia until the ninth grade when he quit and went to work for Gene McCoy. Later in the year he went back and got his GED. John worked for several people, like Highland Enterprises, Bill York in Oregon, Bennett in Elk City, Leroy Howell in Kamiah, and Dave Boatman in Kamiah. He worked with Swanson Logging, and earned the name Magpie, because of the many imaginative stories he would entertain his crew with. He had several other odd jobs.
John lived in Kooskia where he met his first wife, Bertha Larmar. Together they had two children, Keith A. Sarbacher and Anna (Fisher) Sarbacher. Later they divorced. He moved to Elk City, Idaho where he bought his first home and met his second wife, Michelle Forgey. John and Michelle had another child whom they named Joseph (little Joey) Sarbacher. They divorced in 2001 and she remarried and moved to Wyoming. John had two other children with Diana VanDusan named Samantha Roberts and Dani Stamey.
He is survived by his children, Keith Sarbacher of Boise, Idaho, Anna Fisher (Dan) in Grangeville and Samantha Roberts (Keith) of Kennewick, Wash., Dani Stamey of Lewiston, Idaho, and Joseph Sarbacher of Ogden, Utah. He has nine brothers and sisters, Lory Lindsey, Leah Miller, Margarette Mendenhal, Joseph (Joe Joe) Sarbacher, Jackie Layman, Delwyn Thaves, Daureen Thaves, Dannette Payton and Denton Thaves. John has always had strong family ties.
In memory of Magpie we ask to have a drink on Aug. 21, at 5:30 p.m. happy hour to his memory.
Services will be decided on at a later date. Donations can be sent to Malcom's Brower-Wann Funeral, 1711 18th St., Lewiston, ID 83501.