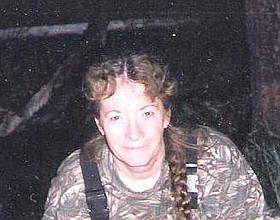 Carolyn M. Brown-Wood
White Bird, Idaho
December 25, 1937 - November 27, 2015

Carolyn M. Brown-Wood was born to William and Dorothy Young in White Salmon, Wash., on Dec. 25, 1937. She passed away Nov. 27, 2015, of natural causes.
She married Vic Early of Goldendale, Wash., in 1955. The marriage ended in divorce.
She married Ray V. Brown in 1959. They moved to Pateros, Wash., and then to White Bird, Idaho, in 1963, where they raised their children. Ray passed away in 1980.
She was married to John (Smokey) Wood in 1983. Smokey passed away in 1990.
Carolyn was best known for her trapshooting skills. She won several trophies and titles all over the northwest. She was an avid outdoorsman who ran her trap lines on horseback and for many years, she and husband, Ray, raised and hunted hounds and bird dogs. In addition, Carolyn enjoyed hunting big game. This was something she never gave up, as she even hunted this season. Her nieces and nephews referred to her as "Annie Oakley." Carolyn had a big heart and a huge love for horses. She was surrounded with them from the time she could barely walk until her death.
She loved the Salmon River and through it all decided to keep it as her home. In 1982 she became an EMT. She was a member of the NRA, Grangeville Gun Club and Rebekahs. She taught 4-H and was on the leader's council, served on the rodeo committee and was honored to be the White Bird Days Grand Marshal in 2010.
She is survived by her five children, Vic (Karen) Early of Pilot Rock, Ore., Jerry Early of Elk City, Idaho, Dianna (Ray) Wilson of Rifle, Colo., Dee (Carolyn) Brown of Lakeview, Ore., and Julie (Wayne) Shipley of Nampa, Idaho; her 10 grandchildren, 17 great-grandchildren; sisters, Darlene (Gary) Dick and Leora (Dick) Osborne.
She was preceded in death by her husbands, Ray Brown and Smokey Wood; her grandson, Zachariah Seay; and great- granddaughter, Charlie Lynn Feeley; her parents; sister, Gloria Hartman; and nephew, Gus Niva.
Services will be held at the White Bird IOOF Hall Friday, Dec. 4, at 1 p.m. with burial to follow at White Bird Cemetery. A potluck will follow the graveside service. Arrangements are under the direction of the Blackmer Funeral Home, Grangeville. Send condolences to the family to Blackmerfuneralhome.com.