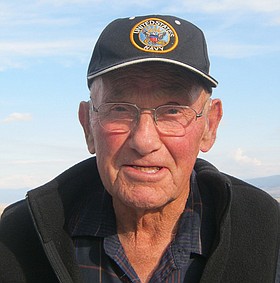 Leland H. Rehder
Cottonwood, ID
January 14, 1923 - November 25, 2015
On Nov. 25, 2015, we lost an amazing husband, father, grandfather, brother and friend. Leland H. Rehder, 92, passed away with his wife, children and many grandchildren at his side. Lee was born Oct. 14, 1923, to Carl and Mamie (Bergund) Rehder in Cottonwood, Idaho. He was the oldest of three children.
Lee grew up on the family homestead at the base of Cottonwood Butte. He graduated from Cottonwood High School.
He enlisted in the U.S. Navy in 1943 and was discharged in 1946. He served on the USS Specter-AM 306 Mine Sweeper in the South Pacific including the Philippines and the invasion of Iwo Jima and Okinawa. He was proud of his service and his shipmates.
Lee married Barbara Koepl in Nezperce on June 21, 1949. They lived on the "home place" and started a dairy, raised beef and hogs and farmed. He and his sons built a dairy herd to 75 cows until the dairy closed in 2003 when he retired at the age of 80.
Lee was an active community member serving on Boards for St. Gertrude Academy, Prairie Schools, United Dairymen of Idaho, Northwest Dairymen Assoc. and FHA. He was active in St. Mary's Catholic Church, Knights of Columbus, Veterans of Foreign Wars and American Legion. Lee had a love of his faith, family, freedom and many friends. He was a well-respected member of his community and beyond. He was a spirited fan of the Seattle Mariners and Gonzaga Bulldogs. He enjoyed daily coffee hour with his friends.
Lee is survived by his wife, Barbara; his children, Jim (Sally), Gary (Lynn), Ron (Doris), Rose, Ken (Doreen), Kevin (Kathy), Joe (Charlene); sister, Mary (Jim) Ewing; 32 grandchildren and 40 great-grandchildren.
He was preceded in death by his parents, brother, Don; son-in-law, Ed Forsmann; grandchildren, Jennifer and Jacob.
A celebration of Lee's life was held on Monday, Nov. 30, at St. Mary's Church in Cottonwood. Uhlorn Funeral Home was in charge of arrangements. In lieu of flowers, memorial donations can be made in Lee's name to St. Mary's Catholic Church and/or St. Mary's Hospital Foundation.