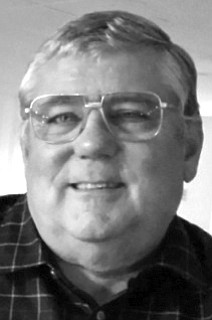 Ronald H. Johns
Grangeville, Idaho
August 1, 1947 - December 2, 2015
Ronald H. Johns, 68, of Grangeville, passed away on Dec. 2, 2015, at OHSU hospital. Ron was born on Aug. 1, 1947, in Lima, Ohio, to Orville and Jeanette Johns, who preceded him in death.
He graduated from Cridersville High School in 1965, and received a B.A. in Education from Ohio State University in 1969. On Sept. 21, 1969, he and Linda Luman were married in Lima, Ohio. The following year their daughter, Christen, was born. Ron's first teaching jobs were in Columbus and Wapakoneta, Ohio.
In l972 the family moved to Idaho where he taught wood and metal shop, along with mechanical drawing. Ron received a M.A in Education from the University of Idaho in 1993. Later in his career, he enjoyed teaching computer science and technology classes. He was dedicated to teaching his students not only future career skills but also an appreciation of craftsmanship. Ron was active in the Idaho Education Association and was an advocate for education on local and state levels. In 2006 he was awarded Grangeville High School's Teacher of the Year. Ron also enjoyed teaching technology classes and computer skills to adults in the community.
He served as boys assistant track coach at Grangeville High School for 15 years, and was Idaho Coaches Association Assistant Track Coach of the Year in 1993. He coached several Idaho State Champions in both track and field events.
After retirement in 2006, he enjoyed gardening, working in his shop and traveling. He grew beautiful roses, and his fruit trees were abundant year after year. He and Linda traveled many summers to Canada's Vancouver Island where they enjoyed spending time with friends and salmon fishing. He loved being on the ocean, and experiencing marine wildlife. The family regularly traveled to Ohio to visit family and friends. He was a dedicated and passionate Ohio State Buckeye fan, and attended football games when possible. He enjoyed following current team stats and players.
Ron had a strong faith in God, and was an active member of the United Methodist Church where he served as a trustee. He was a loving and devoted husband and father who cared deeply for his family and his many friends. Ron had natural wit and a wonderful sense of humor. One of his favorite pastimes was helping friends with projects, and discussing current issues.
He is survived by his wife and daughter and a sister, Barbara (Mike) Bradford of Cridersville, Ohio.
After receiving a stem cell transplant in 2013, Ron became an advocate for Be The Match, the National Bone Marrow Registry. He was passionate about the importance of stem cell donation to save lives of those with cancer. He encouraged others to join the registry that extended his life.
A service will be held Thursday, Dec. 10, at 11 a.m. at the United Methodist Church in Grangeville.
In lieu of flowers, donations may be made to Be The Match National Marrow Donor Program at Bethematch.org. Send condolences to the family to Blackmerfuneralhome.com.