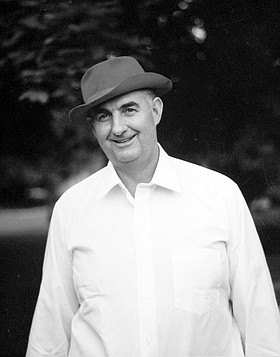 Emmett Luke Wilkins
Kamiah, Idaho
March 28, 1929 - December 10, 2015

Emmett Luke Wilkins died at his Kamiah home Thursday, Dec. 10, 2015.
Emmett was born March 28, 1929, at Winona, Idaho, to Amos and Odessa (Heath) Wilkins. He and his three sisters grew up on the family farm there and attended the Cramer school and then later Kamiah High School. Emmett played football, basketball, and baseball before graduating in 1947. He went on to attend the University of Idaho and continued to manage the family farm while working on his BS in Business Law.
Emmett met his lifelong sweetheart, Helen Brown in Kamiah. They both attended the University of Idaho and were married Dec. 22, 1950. They spent the early years of their marriage between the farm and the University, often taking the fall semester off for late harvest. Shirley was born in 1953 and then Tomas in 1954.
They moved to Kamiah and Emmett purchased Ida-Lew Construction in 1959, an excavation and construction business he operated for 28 years. He prepared building sites for many homes and businesses in the Clearwater Valley and Camas Prairie. Emmett built many roads, ponds, and prepared footings for bridges in the area as well. He was an expert excavation equipment operator.
Emmett and Helen added three more children to their family -- Mariann was born in 1959, Patty in 1967 and Bryan Emmett in 1970.
When Emmett "retired" in 1987, he continued to serve the community by working in city maintenance with his good friend, Jim Osborn, for a few years.
Emmett's community contributions were extensive. He was honored for serving the Kamiah Volunteer Fire Department for 45 years. He was past president of both the Kamiah and the North Idaho Chambers of Commerce. Emmett was always active in supporting the chamber's annual Barbeque Days events and he and Helen were honored as grand marshals in 1998. Emmett was a driving force in establishing a community credit union in Kamiah. He was a charter, lifetime member and served on the board of drectors as well as KCCU's supervisory committee for many years. Emmett served on the Kamiah Planning and Zoning Commission and was also active in Oddfellows, Elks, Lions Club and Jaycees. He served as state Jaycee vice president and received the JCI Senatorship honor. Emmett was proud of many community projects the Jaycees spearheaded, including establishing the clinic in Kamiah and working with the Jayceettes to support the community library. He was also instrumental in building the community pool in Kamiah. In 1964, Governor Samuelson appointed him state chairman of the Mental Health Board. Emmett provided Boy Scout leadership as scoutmaster for eight years and volunteered his efforts in building Camp Grizzly.
Emmett and Helen were adventurous and enjoyed camping, snowmobiling, and four wheeling the back roads of Idaho County and beyond. Emmett built a family cabin on the Lochsa for Helen's mother and stepfather, Buelah and Dr. C. H. Bryan. The family place on the Lochsa and the wonderful times spent there is a gift that Emmett and Helen have created for their family. He loved a good card game, especially when there were small stakes and he could get caught being crafty. Emmett had a good healthy sense of mischief and a fabulous sense of humor. He valued hard work, a good Kub, Vandal or Zags basketball game, gardening and sharing a frosty beverage with friends and family. Emmett was rarely seen without his iconic red hat, a symbol of his unique character.
He was preceded in death by his parents, Amos and Odessa Wilkins, and his sister, Verla Simler.
He is survived by his wife, Helen; daughters, Shirley (Dean) Roach, Mariann Wilkins, Patty (Wes) Carscallen; and sons, Tom (Marty) Wilkins, Bryan (Kris) Wilkins; 10 grandchildren, Christopher, Ben and Riley Wilkins, Kevin and Craig Roach, Parker Leigh, Emma and Sarah Carscallen, Kati and Jack Wilkins; 17 great-grandchildren, Jessica, Zach, Lexi, Tylee, Hannah, Layton, Maylee, Kaleah, Isabella, Fallon, Jayden, Beau, Riker, Cole, Finley, Madison, Reagan; and one great-great-grandchild, Rydge; sisters, Veta Miller and Melvena Imthurn; and numerous nieces and nephews.
A celebration of Emmett's life will be held at 2 p.m. Friday at Saint Catherine's Church at 407 7th Street in Kamiah. Refreshments will follow.
Memorial contributions may be made to the Kamiah Ambulance Service, P.O. Box 933, Kamiah, ID 83536; the Lowell Quick Response Unit, 6741 Highway 12, Kooskia, ID 83539, the Kamiah Volunteer Fire Department, P.O. Box 993, or Syringa Hospice, 607 W Main St, Grangeville, ID 83530.