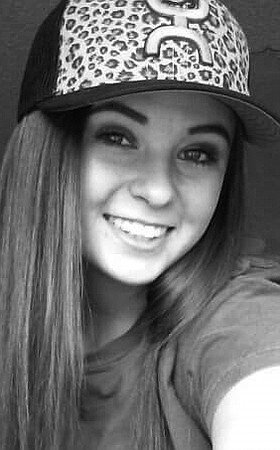 Rochelle Hilbert
Grangeville, Idaho
November 27, 1999 - December 9, 2015
On Nov. 27, 1999, a beautiful baby girl was born to Nick and Shawna Hilbert in Grangeville, Idaho. She joined sisters, Caitland and Whitney, in the family home on the Grangeville-Salmon road. Rochelle grew up a country girl, spending time at the family cabin, on the South Fork River, and exploring the forests of Idaho County. Rochelle was born into a family of avid sportsmen, learning to hunt, shoot and fish at an early age. She was an exceptional marksman and had recently taken up the sport of shooting bows with her family. Hers was a close-knit family that did everything together. Rochelle loved playing the character "Sparky" for the Grangeville Fire Department during the annual 4th of July celebration in Grangeville, and when she was older, driving a 4-wheeler for Bud's PowerSports in the parade. Rochelle also loved riding horses and going on trail rides with her big sister, Caitland. Rochelle's three young nieces lovingly called her Auntie "Doo-Doo." She loved being their aunt and taking care of them whenever Whitney needed her.
In 2005 Rochelle started kindergarten in the Grangeville School District and would have been a graduate of the class of 2018. She played softball, volleyball, and was a member of the Junior High School band.
Rochelle left this earth and the arms of her loving family Dec. 9, 2015.
She is survived by her parents, Nick and Shawna at the family home; sister, Caitland Tow, Hank, and niece, Elizabeth of Grangeville; sister, Whitney Kaschmitter, Josh, and nieces, Addison, Paisley and Kennedy of Grangeville; maternal grandparents, Ron and Nancy Charley of Harpster, Idaho; paternal grandmother, Izzie Hilbert and her partner, Walt Lindsey of Grangeville; and numerous aunts, uncles and cousins who love and will miss her dearly.
She was preceded in death by her paternal grandfather, Ted Hilbert; grandmother, Parilee "Pete" Hilbert; and godmother, Wendy Kaschmitter. She is also survived by her faithful dog, Maggie, and cat, Andy, whom she loved so very much.
Rochelle's most beautiful feature was her infectious smile, her big, beautiful, all-encompassing smile that emulated a beautiful soul within. She smiled at everyone, everywhere. Rochelle was so deeply loved by her family and friends.
There was a Rosary Dec. 14 at Saints Peter and Paul Church in Grangeville. Funeral services were held Tuesday, Dec. 15, at Saints Peter and Paul school gymnasium, with burial following at Keuterville Cemetery where she was laid to eternal rest beside her grandpa, Ted.
A donation fund for the family has been set up at Pine Tree Credit Union in Grangeville. Send condolences to the family to Blackmerfuneralhome.com
Tell someone you love them today, because tomorrow is not promised.