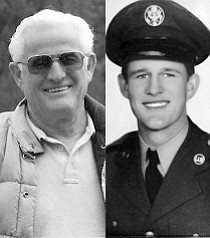 Truman Arlton Hill
Grangeville, Idaho
November 27, 1932 - December 19, 2015
Truman Arlton Hill, 83, of Grangeville, Idaho, passed away Dec. 19, 2015, at his daughter and son-in-law's home in Grangeville. Truman was born in a log cabin in Arkansas on Nov. 27, 1932, to Don Cecil and Nancy Serena Hill. His family migrated west during the Dust Bowl eventually settling in Bakersfield, Calif. Truman joined the Air Force and served during the Korean War in Japan as a flight line mechanic. This was something he was very proud of and the experience helped to form the rest of his life.
He married Ann in 1956 and together they had a son, Roger, and a daughter, Dorene. Truman put himself through college while raising a family and working full time for Kern County, first at the juvenile hall, then the welfare department and then working as a deputy conservator with the mental health department.
After the kids were grown, retiring from the county due to health reasons and being single again, Truman returned to college to get his bachelor's degree from Cal State Bakersfield. He then moved to Sacramento, Calif., and started teaching at West Sacramento grade school. This was a challenge that he truly loved.
When Truman finally retired for good he loaded up and hit the road. He had many adventures and made scores of friends along the way. After several years traveling, he settled in Kamiah, Idaho, eventually moving to Grangeville.
Truman always loved to travel and took his family on many wonderful vacations. Beautiful trips to Canada and countless vacations on the coast and in the mountains will never be forgotten. He also loved his cars, motorcycles, photography, kayaking and being a pilot. But most of all, he loved his kids with all his heart.
He was preceded in death by his mother, father, and all five brothers, Cecil, Boyd, Floyd, Vernon and Everett.
Truman is survived by his son, Roger (Roseanne) Hill of Brookhaven, Miss.; and daughter, Dorene (Dave) George of Grangeville; grandsons, Sean Hill of Bakersfield, Justin (Raychel) Asher and Patrick Asher of Brookhaven, Bryon (Amanda) Eoff and Jason (Debbie) Darr of Grangeville; granddaughters, Laurie Ann (Justin) Frey and Cristal Marie Hill of Bakersfield; nine great-grandchildren and another on the way. It is of special note that his latest grandson, Brint, was born on what was to be Truman's final birthday.
His funeral will be held at Trinity Lutheran Church in Grangeville, of which he was a proud member, on Monday, Dec. 28, at 10 a.m. with a brief graveside service directly after at Fairview Cemetery, Grangeville and a luncheon following provided by the Ladies of the Lutheran Church. Arrangements are under the direction of the Blackmer Funeral Home, Grangeville. Send condolences to the family to Blackmerfuneralhome.com.
Family suggests memorial contributions to the Salvation Army, or Syringa Hospice and to please not vote for Hillary.