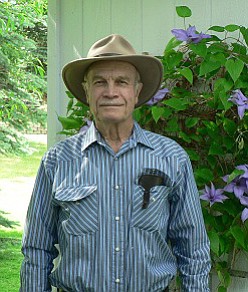 Grant Smith
Grangeville, Idaho
unknown - December 26, 2015

Grant Smith, 81, beloved husband, father and grandfather, born in 1934, passed on Dec. 26, 2015.
He was born to Sterling and Lucille Smith in Peoria, Ariz., and spent his youth in Williams, Ariz. As a high school sophomore, the family moved to Eugene, Ore., where Grant played football for Eugene High School. His college days were interrupted by the draft during the Korean War. He spent his two years stationed in Japan where he became an expert marksman with a pistol, placing in the Far East championships. His interest in shooting continued throughout his entire life. He returned from his service abroad to use the GI Bill to complete his B.A. degree in education at the University of Oregon.
He began his career in teaching in 1959 and met his wife, Gwen, in Placerville, Calif. They married on June 10, 1961. He continued teaching junior high science in Placerville and Susanville, Calif., for 32 years.
Upon retirement in 1993, Grant and Gwen moved to Grangeville, Idaho, where he continued his commitment to education by volunteering in a fifth grade classroom at Grangeville Elementary School.
He had a variety of interests including motorcycles, hunting, shooting, old cars, and spending time in the outdoors. He was a private pilot and his passion for flying permeated everything he did. He owned and flew several different aircraft for more than 53 years. He shared his love of flying with others by frequently taking friends, neighbors and community members for rides in his Cessna.
Survivors include his wife, Gwen, at their home in Grangeville; daughter, Erin (Dave) Smith-Hagberg of Lakeport, Calif.; son, Link (Judy) Smith of Veneta, Ore.; grandsons, Erik Hagberg, Ty Hagberg, Austin Smith and Kellen Smith; his brother, Marc (Charlotte) Smith; and several nieces, nephews and grandnieces and nephews.
He was enormously proud of his children and grandchildren. He will be remembered for his generosity, compassion, gentlemanly manner and humor. Contributions may be made to any charity of your choice or a school of your choice in his memory.
A celebration of life will be announced and held in the late spring. Arrangements are under the direction of the Blackmer Funeral Home, Grangeville. Send condolences to the family to Blackmerfuneralhome.com.