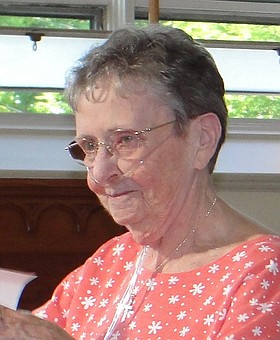 Sister Carolyn Miguel, OSB
Cottonwood, Idaho
August 22, 1931 - December 19, 2015
"Thank you, God. It's over, and it's beautiful."
Sister Carolyn Miguel, 84, a Benedictine sister of the Monastery of St. Gertrude, was born into eternal life on Dec. 19, 2015, at 9 a.m. Her daughter, Nan, was with her, along with her "grand-dog" Joey and members of her monastic community. She leaves a legacy of embracing life to its fullest and living her dedication to her creativity. She gifted the world with her art, her down-to-earth presence, and her willingness to find meaning and joy even in the challenges of diminishment in her struggle with lung disease. She will be greatly missed.
Carolyn was born on Aug. 22, 1931, and made her First Profession on Aug. 8, 1987, after raising three children.
She worked as a hair stylist in the Nampa-Caldwell area and when she moved to the Monastery, offered that service to sisters and area people. At the Monastery, she was able to realize a lifelong dream by having the time and a studio for being an artist. She repaired statues, sculpted wooden plaques and figurines, painted saints and other images on river rocks, etched glass and more.
Her focus was on the ancient art of iconography. She studied this form of prayer at the Iconography Institute at Mt. Angel Abbey near Portland, Ore., and was generous in teaching others.
"I know it is God who puts the vision in my mind. I feel exhilaration as I come close to letting the vision take shape on my panel," she said. She likened writing an icon to giving birth to a child. "After my babies were born and when I finished an icon I would say, 'Ah, I did it. Thank you, God. It's over, and it's beautiful.'"
Carolyn is survived by her daughter, Nan Miguel of Grangeville; son, Don A. Miguel (and wife Bonnie) of Penfield, N.Y.; and son, Bob L. Miguel (and wife JoAnna) of Hesperia, Calif.; her grandchildren; and her monastic community.
A Rosary Vigil Service was held Dec. 29, and the funeral liturgy will be held at 1:30 p.m. on Wednesday, Dec. 30, in the Monastery of St. Gertrude chapel, 465 Keuterville Road, Cottonwood, Idaho. Memorial gifts in Sister Carolyn's honor can be made to the Monastery.
The photo of Sister Carolyn was taken after she renewed her monastic vows on her 25th Jubilee in 2012.