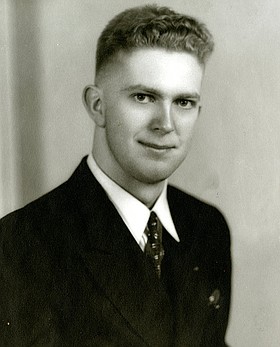 Arthur "Tiny" Leo Egbert
Boise, Idaho
June 13, 1926 - January 26, 2015

Arthur Leo "Tiny" Egbert passed away on Jan. 26, 2015, at the home of his daughter, Bonnie McCurdy, in Boise, Idaho. He was born in Bellingham, Wash., on June 13, 1926, to Leo and Nina Egbert. When he was born he was greeted by four older brothers and one sister. In fact, he arrived on his sister's 12th birthday. As she already had four brothers, she wanted to know why this one could not have been a sister instead.
When Arthur was 6 his family moved to California. They moved often as his father searched for work to support his family. Arthur told many stories of living in tents or line shacks in many locations in Idaho, California, Oregon and Washington. The circumstances of his childhood were difficult, but Arthur always focused on the memories of kindness and generosity of other people in his life.
At age 16, Arthur moved to Idaho. He spent two years studying to become a minister. He ministered in a number of different churches in Idaho while being coached by a presiding pastor, and eventually moved to the town of Meadows, Idaho, where he ministered on his own for the first time. There he met a young woman from McCall named Bonnie Egger. They fell in love and were married on Jan. 31, 1945. Arthur and Bonnie had five children: Nina, born in Council, Idaho; Bruce, born in Salem, Ore.; Tim, born in Eureka, Calif.; Lowell, born in Cascade, Idaho, and Bonnie, born in Grangeville, Idaho.
Arthur worked in the lumber industry, both in the woods and sawmills, for all of his adult life. He and his father had logged with horses in the Eureka area. He continued logging later in Idaho. While working at a sawmill in Grangeville, which had become the family home, a co-worker affectionately named him Tiny. He stood six feet and four inches tall and weighed 260 pounds. The nickname stuck and he was Grandpa Tiny until the end. Besides working in the woods, Arthur truly enjoyed and appreciated the outdoors and nature. Some of his fondest memories involved travel to scenic spots with family and friends throughout his life. Arthur and Bonnie remained in Grangeville until all of their children were grown and ill health resulted in a move to Boise to live with their daughter, Bonnie.
Arthur was preceded in death by his parents; all five of his siblings; his wife, Bonnie, who died in 2006; and two of his children, Lowell, who died in 2004 and Nina, who died in 2012.
After the loss of his loved ones, Arthur continued to see life as a gift. There was sadness, but no bitterness. He lived with thankfulness and appreciated each day as a gift to be savored and enjoyed.
Arthur's children, grandchildren, extended family and friends feel so blessed to have had him as a centerpiece of their lives. He was simply one of a kind. He was humble, caring, thankful, and gracious, and he had the heart of a teddy bear. He loved music; he played the saw and the piano and sang joyfully. He may have been overly optimistic about his singing ability, but made up for it with his amazing joy. He loved life and he loved people.
A special thanks to the Elks wound clinic that treated Arthur like family for almost two years, and Dr. Oster who lovingly cared for him. Arthur's family suggests memorial gifts be given to the charity of their choice. Family and friends will gather to celebrate his amazing life at a later date to accommodate schedule and travel needs.