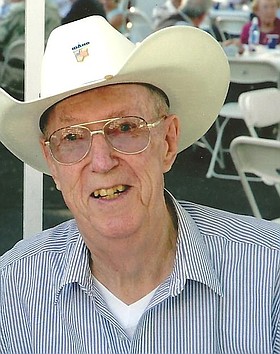 Clarence Joseph Pfiffner
Lewiston, Idaho
January 8, 1924 - January 24, 2015

Every day is a gift from God and Clarence Joseph Pfiffner lived that gift to the fullest until he passed from this earthly life on Jan. 24, 2015.
From humble beginnings, Clarence amassed a wealth of friends he met on his journey through life. Clarence, the youngest child of Albert and Emma (Sarbacher) Pfiffner, was born Jan. 8, 1924, in Ferdinand, Idaho. He attended Ferdinand Elementary School and graduated from Ferdinand High School in 1942. After graduation, he worked various jobs until he was drafted into the Army Air Corps during World War II. While serving, he started his college studies. He ended his military career in 1946, after receiving the rank of sergeant.
In 1948, Clarence and Bernice (Duclos) were married in Cottonwood, Idaho. He attended Northern Idaho College of Education in Lewiston graduating in 1951. In the summer months he worked in the construction field building houses and other carpentry work. His teaching career began at Craigmont High School (1952-1962) and ended in 1983 at Prairie High School in Cottonwood (1962-1983). He was the inspiration for many of his students and teachers. He enjoyed teaching drafting, small engines, welding, woodworking, drivers ed and algebra. He enjoyed the many students he taught and how their lives evolved.
After retirement, Clarence and Bernice travel extensively around the west. They spent 10 winter seasons in Quartzsite, Ariz., and finally in 1993 decided to move from Cottonwood and settled in Lewiston, Idaho. They enjoyed camping, fishing, dancing and playing cards with family and friends. They enjoyed the many family gatherings. Their children, grandkids and great grandkids were a joy to his life.
Clarence is survived by his loving wife of 66 years, Bernice; son, David (Katie); daughter, Linda (Ed) Hinds; son, Gary (Tami); eight grandchildren, Marsha, Carolyn, Eraka, Brian, Monica, Melissa, Lory, Emma; and eight great-grandchildren; and a host of extended family and friends.
Preceding him in death are his parents and siblings, Claudine (Vince) Uhlenkott, Carl (Edith) Pfiffner and Wilma (Ernie) Stewart.
At his request, cremation has taken place at Mountain View Funeral Home. A rosary will be recited at 10 a.m., followed by a memorial Mass at 10:30 a.m. on Feb. 14 at All Saints Catholic Church in Lewiston. Please come and join the family in the celebration of his life.
In lieu of flowers, please make donations to your favorite charity in his name. Clarence will be inurned in the Lewis Clark Memorial Gardens.