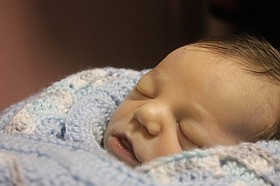 Gunner Ryan Hill
Grangeville, Idaho
January 21, 2015 - January 23, 2015

Gunner passed away peacefully in our arms at 9:22 p.m. on Jan. 23, 2015. He was born Jan. 21, 2015, and he was such a special little guy who touched a lot of people's hearts in a very short amount of time. He built broken family relationships and brought us all closer.
I cherish the moments I had with him while pregnant, feeling him kick and punch, his little hiccups. I would give anything to have him still in there, to be close like that. Jay and I both felt at peace while holding him that night. We got to hold him while he was still on the machine and he passed very quickly once off. The only thing that was working for Gunner was his heart; he was a tough little guy and held on until the end for me and his daddy to hold him.
We are very proud and blessed to say we are Gunner's parents; he chose us to be his mom and dad.
Gunner is survived by parents, Jay and Nicole Hill of Grangeville; sisters, Georgia and Isabel Weathers, Macie Hill; brothers, Isaac and Clay Hill; great-grandparents, Orville and Johanna Biggers of Grangeville, Leona Hill of Grangeville; grandparents, Jerry and Karla Hill of Grangeville, Inge Nordstrom of Kansas; aunts, Shelia Oakley (Hill) of Virginia, Jodi Agee (Hill) of Stites, Sandra Bauer of Kansas, Patricia Kickhaefer (Nordstrom) of Kansas; uncle, Casey Hill of Texas; great-aunts and uncles, Bonnie Hill of Grangeville, Larry and Nancy Hill of Grangeville, Jana and Matt Myers of Texas, Danell and Dave Niemeyer of Lewiston, Marsha and Bob Andrews of Washington; and numerous other aunts, uncles and cousins.
Thank you for all your thoughts, prayers, kind words and outpouring of love. It means a lot to us and we are very thankful for it.
A memorial fund has been opened up at Umpqua Bank for the benefit of Gunner Hill. Donations can be made or mailed to: Umpqua Bank, 147 W Main St., Grangeville, ID 83530.