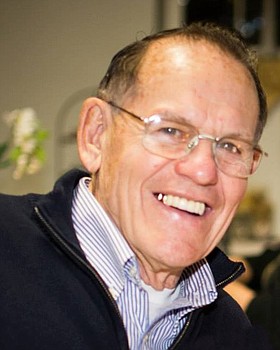 David "Papa" Lee Kries
Kamiah, Idaho
January 9, 1936 - February 6, 2015
David Lee "Papa" Kries, 79
Kamiah, Idaho
David Lee Kries, 79, of Kamiah, Idaho, died alongside his friend, Roger Ward, in an ice-fishing accident at Winchester Lake on Feb. 6, 2015.
He was born at St. Joseph's Hospital in Lewiston, Idaho, on Jan. 9, 1936, to Alvina (Lemm) Kries and Omer Kries of Genesee. He was raised in Idaho and attended elementary school at St. Maries and graduated from Genesee High School in 1955. He was student body president and a good athlete.
He married Patricia Ann Aherin, also from Genesee, on June 30, 1957. Together they had three children: Doug, Mary and Beth.
Following high school graduation, he worked at the Potlatch Mill in Lewiston. Beginning in 1959, he attended Lewis and Clark Normal School College; he later graduated from the University of Idaho with a master's degree in the art of teaching biology in 1971.
He taught at the Kamiah Elementary, Junior High and High School for a combined 34 years. His subjects included chemistry, biological sciences, photography, earth science and yearbook. He was the yearbook advisor for the high school for many years and also coached junior high football and high school track. He found great joy in his teaching and in inspiring his students to love science. He received Kamiah's first "Distinguished Service Award" and was Kamiah's "Teacher of the Year" in 1985-86 and 1987-88.
David was an avid outdoorsman and especially loved to fish and hunt. He was a hobby farmer and a fruitful gardener, known for growing delicious sweet corn and sharing his harvest with the whole neighborhood. From the raspberries and strawberries in his garden to the huckleberries at Priest Lake, David loved to pick berries. He also enjoyed woodworking, and made many beautiful gifts for his children and grandchildren. David had a small Christmas tree farm and enjoyed rock and bottle hunting. He was a naturalist through and through, and loved to use science to examine the world around him.
He and Patty built their home on the outskirts of Kamiah in the summer of 1983. He was a true Kamiah Kub and community member. A charter member of the Kiwanis of Kamiah and the Kamiah Jaycees, he was an active member of St. Catherine's Catholic Church and a member of the Knights of Columbus. He loved calling Kamiah his home, and was wholly committed to the people who live there. He found particular joy in lending a hand to anyone who needed it.
He was a wonderful teacher, community member, neighbor, hunting and fishing buddy, friend, husband, father, and papa, who will be missed greatly by many.
He was preceded in death by his parents, Omer and Alvina Kries; a brother, Kenneth Kries, who died in a car accident in 1960; and Sarah Jo, a stillborn infant daughter, in 1966.
He is survived by his wife of 57 years, Patty; his sister, Jean Ann (Clifford) Ensley; his children, Douglas (Sheila) Kries, Mary (Jim) Schmidt, Elizabeth (Kevin) Budig; his eight grandchildren, Mary Beth (Kries) Garbitelli, Matthew Kries, David Kries, Sarah Kries, Jenne Schmidt, J.D. Schmidt, Marcus Budig, Lauren Budig; and four great-grandchildren, Daniel, Andrew, Lucy and Rose Garbitelli. He also leaves behind two aunts, Loretta (Floyd) Alfrey and Dorothy Huffman; many cousins, nieces and nephews; as well as friends, students, fishing and hunting partners, and neighbors. To his frustration, he also left behind many big fish in the Clearwater River.
The funeral services will take place at St. Catherine's Church in Kamiah on Saturday, Feb. 14. A Rosary service will begin at 10 a.m. with a Mass of the Resurrection following at 11 a.m. A celebration of David's life will be held at 1 p.m. in the basement of St. Catherine's Church. A light lunch will be provided, with a short program and sharing of memories at 1:30 p.m.
In lieu of flowers, the family suggests that memorial donations be made to the Kamiah Education Foundation, Inc., P.O. Box 143, Kamiah, ID 83536.