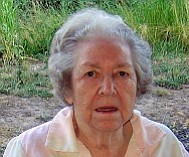 Edith Marion Adams
Spokane, Wash.
January 26, 1918 - February 4, 2015

Edith Marion Adams, 97, went to Heaven on Wednesday, Feb. 4, 2015. Edith was born on Jan. 26, 1918, to Barney and Mildred Cain in Newport, Wash. She grew up in north Idaho and eastern Washington in a mill camp that moved frequently. She graduated from Mead High School in 1936. She married Oris Adams, a childhood friend on Sept. 18, 1937. She lived many years in Harpster, Idaho, raising her family. Later she lived in Priest River, Idaho, and Spokane Wash.
Edith loved cooking and baking, reading and doing puzzles. She is known for her pies, baked goods, canning and Bible reading. Many a church was blessed with her servant's heart.
Edith was preceded in death by her husband (1957), and two sons, Kenneth (1941) and LeRoy (2013); three sisters, Mary Zinter, Nelda Storro and Norma Storro; one brother, Bernell Cain; also one great-grandson, Aiden Agee.
She is survived by her children, Larry (Mary) Adams of Rathdrum, Idaho, Richard (Karen) Adams of Harpster Idaho, Nancy (John) MacPherson of Spokane, Wash., Karen Buster of Spokane, Wash., and Rosemary (Mike) Agee of Grangeville, Idaho; as well as 18 grandchildren, 49 great-grandchildren, and 16 great-great-grandchildren. Edith is also survived by two brothers, Loren (Marlene) Cain of Kennewick, Wash., and Gary (Nan) Cain of Riverbank, Calif.
Edith was buried in Grangeville beside her husband. A memorial service celebrating her life will be held in Spokane, Wash., at Zion Christian Center on Saturday, Feb. 21 at 1 p.m. Arrangements are under the direction of the Blackmer Funeral Home, Grangeville. Send condolences to the family to Blackmerfuneralhome.com.