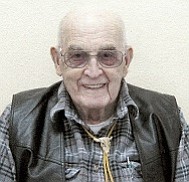 Edwin R. Learn
Grangeville, Idaho
July 3, 1924 - February 4, 2015

On Wednesday, Feb. 4, 2015, Edwin R. Learn, 90, joined his wife, Lorraine Learn, in her heavenly kitchen. He once again will be her official taste tester.
Ed was born July 3, 1924, in Creston, Mont., to Levi and Myrtle Learn. He attended schools in the Flathead area of Montana.
He married his best friend, Lorraine Grice, June 1, 1944, in Rollin, Mont. They were married 66-1/2 years. Ed and Lorraine lived in Montana, Oregon and Idaho. He did farm work, worked in the timber industry and construction/building. He was a meat cutter and one of only three men in Oregon who could bone and roll turkeys. He retired as head of maintenance for Joint School District 241, Grangeville, Idaho.
Ed and Lorraine are survived by two daughters, Marilyn and Charlie McCarty of Grangeville and Kathy Learn of Twin Falls, Idaho. He is also survived by a "special" daughter, Crandal and her family; two sisters, Robert and Gaybeth of Montana and William and Asenath of Arizona. He was preceded in death by a grandson, his parents, in-laws, four siblings and one brother-in-law.
Ed was blessed with three grandsons, Todd (deceased), Scott and Lucy McCarty of Edgewood, N.M., and Dan and Tammy McCarty of Edgewood, N.M. He has one great-granddaughter, Lauren and CJ of Twin Falls and one great-grandson, Jack and Melissa of Riggins. Ed was blessed with three great-great-grandsons, Stephan (Buddies), Bronson and Cactus, and two great-great-granddaughters, Maggie and Kaylynn.
Ed will be missed by family, "adopted family" and friends.
He loved camping, fishing, hunting, woodworking and four-wheeling back trails.
Ed was a longtime member of the Grangeville Christian Church. A memorial service will be held at Grangeville Christian Church, 402 WS 1st St., Grangeville, on Saturday, Feb. 21, at 1 p.m. Inurnment will be at Prairie View Cemetery following the memorial service.
A special thanks to the Grangeville Health and Rehab staff for their exceptional loving care and friendship, and also to Dr. Daniel Griffis, Pastor Harold Gott and Pastor Tom Helmick. Arrangements are under the direction of the Blackmer Funeral Home, Grangeville. Send condolences to the family to Blackmerfuneralhome.com.
In lieu of flowers, the family suggests donations to the Grangeville Christian Church Memorial Fund, The Alzheimer Foundation or charity of your choice.
Joel Edward Mattox, 54
Grangeville, Idaho
Joel Mattox, 54, of Grangeville, Idaho, passed away Thursday, Jan. 29, 2015, at St. Joseph's Regional Medical Center, Lewiston, Idaho, after a two-year battle with brain cancer.
He was born in Grangeville, Idaho, on June 3, 1960, to Eddie and Joyce Mattox. He graduated from Grangeville High School in 1978 and from Idaho State University in 1982 with high honors and a bachelors of science in chemistry. He also spent two years at University of Washington working on a master's degree.
Joel loved working on computers, fishing, bowling, playing video games, and all kinds of music, especially Weird Al songs which he shared with all his nephews and nieces.
He is survived by his mother, Joyce Mattox of Grangeville, Idaho; his sisters, Nancy Collell, of Yelm, Wash., and Kathy Hartford, of Everett, Wash.; his nephew and nieces, Brenden Hartford, Alicia Rushton, Deryck Hartford, Kaitlyn Hartford of Everett, Wash., and Noah Collell of Yelm, Wash.
A memorial will be held in Grangeville in the summer.