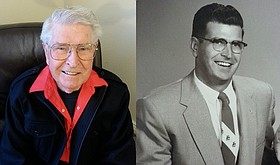 Jay Paul Munsey
Boise, Idaho
January 21, 1924 - January 4, 2015

Jay Paul Munsey, 91, was born Jan. 21, 1924, to Cassius Clay Marcellus Munsey and Hazel Pearl Torrence Munsey, the youngest of five children, in Huston, Idaho. He died on Jan. 4, 2015, in Boise, Idaho.
He graduated from Sunny Slope Grade School, and Gem State Academy in Caldwell, Idaho. Before going to college he served 18 months in the South Pacific in World War II. Upon returning to the states, he married Tola Nadine Gish on Nov. 28, 1946, in Milton-Freewater, Ore. Together, they attended Walla Walla College in College Place, Wash. Jay graduated from the Loma Linda College of Medical Evangelism in 1954. He interned at Portland Adventist Hospital in Portland, Ore. In 1962 he took a one-year surgical residency in Kern County General in Bakersfield, Calif. He later became a charter member of Fellow of Family Practice.
After three years as a medical director for the Adventist Mission Hospital in Benghazi, Libya, he returned to the states where he practiced family medicine for 32 years in Moab, Utah.
During the 1980s he spent time working in a refugee camp in Thailand for the Cambodians with the United Nations. He also went with a group to work in an open air prison in Palawan, Philippines. In 1986 he went with Doctors International to Peshawar, Pakistan, where he taught the Mujaheddin to be EMTs and do field triage work once they returned to Afghanistan.
In 1988 he retired from active practice to live on the Little Salmon River near Riggins, Idaho, where he then did Locum Tenums in Grangeville, Orofino and Council and in the clinic in Riggins.
His passion was medicine, but second came both fishing and gardening.
He trusted God and had confidence in God's care and compassion all his life and was an active lifetime member of the Seventh-day Adventist church, member of the Lions Club and member of the VFW.
He leaves to mourn, his wife, Nadine; daughters, Jaydine Roberta Munsey, Rebecca Nadine Munsey, both of Boise, Idaho; and a grandson, Jathan Christopher Merkel (Brittny) of Beaumont, Calif.
The family wishes to thank the wonderful people of Willow Park and Legacy Hospice for their care of Jay and the family, as well as Dan Dewitt for his help in moving a lifetime collection of artifacts, curiosities and mementos.
Services are pending. In lieu of flowers the family would like you to contribute to Legacy Hospice.
A longer obituary can be seen on www.cremationsociety-idaho.com/. Condolences can be placed on the same website.