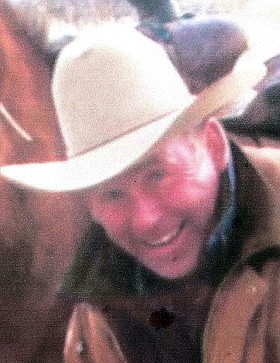 Jerold Joseph Johnson
Cottonwood, ID
January 3, 1961 - February 6, 2015

Jerold Joseph Johnson, 54, died unexpectedly on Feb. 6, 2015, at the family ranch on the Salmon River with his mother, nephew and friends at his side. He was horseback riding and doing what he loved most on the ranch he called home most of his life and with his faithful dog nearby.
He was born Jan. 3, 1961 to Pete and Hilda Johnson. He went to school for 12 years in Cottonwood graduating in 1979.
He loved horses from an early age and believed in saddling up first thing in the morning and spent many hours horseback. He purchased his own custom-made Ray Holes saddle before graduating high school. He raised, rode, shod and trained horses – and built many miles of fence. He absorbed the past history of the Salmon River area, its old ways and its people, often reading in his grandmother's diaries of what took place in the earlier years of the country he loved. He was an "old sole" in a newer age that could not understand or respect machinery or technology. His vehicles were a tool to get him where he was going and a place to lay his head back for three or four hours and go again. He believed in working long, hard hours and expected others to "keep up." But he always had time to just talk or help another person.
Jerry was preceded in death by his father, Pete, in 2013; his grandparents, Slim and Mary Johnson and Harmon and Minnie Suhr.
He is survived by his mother at the family ranch; two brothers, Greg and Kathy Johnson of Grangeville, Dan and Kim Johnson of Anatone, Wash.; two sons, Kenton Shane Johnson and David Michael Johnson; grandchildren, aunts, uncles, nieces, nephews, cousins and friends.
Jerry had told his mother "when I die, I want to die fast, no hospitals, no life support, no hoopla. Just let me go, dig a hole and throw me in." He lived his life his way and he died doing what he loved.
Simple graveside services will be held on Feb. 13, at the Cottonwood Catholic Cemetery at 1:30 p.m.
At his request no viewing will be held. Uhlorn Funeral Home in Cottonwood is in charge of arrangements.