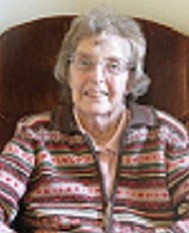 Susanne "Susie" Wilhelmina Stuivenga DeHaas
Grangeville, Idaho
November 8, 1928 - February 3, 2015
Susanne (Susie) Wilhelmina Stuivenga DeHaas, 86, went to be with the Lord on Feb. 3, 2015. Susie was born Nov. 8, 1928, in Grangeville, Idaho, to Mike and Cora Stuivenga and was the youngest of five children. She grew up on the family farm and attended the Grangeville Christian Reformed Church where she was a lifelong member. Susie loved to ride horses, often times riding them to school, even in winter. She later graduated from Grangeville High School and subsequently moved to Everett, Wash., where, at the young age of 17, she attended business school for two years.
Upon returning to Grangeville, Susie married John DeHaas on Nov. 4, 1947. They eventually settled in Mt. Idaho on the family farm and raised eight children. Susie was blessed to live a full life in her 86 years. She raised a large family, worked alongside her husband building their family farm, cooked, sewed, gardened, and was an avid reader. In what little spare time she had, Susie served in her church for many years as a Sunday school teacher and volunteered with the American Cancer Society.
Those who knew her well know that Susie had a dry sense of humor, a sharp wit and a deep and loving faith in God that never faltered. Her positive outlook on life served as a model for others.
Susie is survived by her children including, Richard (Paula) of Albuquerque, N.M., Larry of Lewiston, Idaho, Cathy Bailey of Grangeville, Gerald (Karyn) of Fairbanks, Alaska, James of Poulsbo, Wash., Chris (Tim) of Eagle, Idaho; 10 grandchildren and five great-grandchildren; one sister, Alice Hall of Lewiston, Idaho. Susie was preceded in death by her husband, John; son, John, Jr.; daughter, Carolyn; brothers, Harry and Bill; and a sister, Charlotte.
The viewing was held on Friday, Feb. 6, at the Blackmer Funeral Home. Funeral services were held on Saturday, Feb. 7, at Blackmer Funeral Home in Grangeville. Burial followed at Prairie View Cemetery. Remembrances may be left on-line for the family at www.blackmerfuneralhome.com.
Rest in peace, Mom. You are loved and dearly missed by all who knew you.