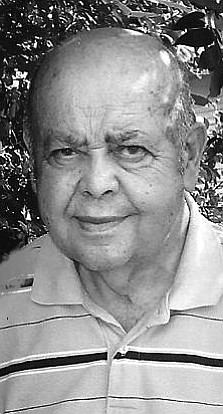 Manuel Vargas Costa
unknown - unknown
Manuel Vargas Costa passed away peacefully on Jan. 20, 2015, at his daughter, Kathleen's home in Kooskia of complications due to compromised hepatic and renal function and an ongoing bout with diabetes and heart disease. Manuel was born Oct. 23, 1932, in a small town called Niles, (now Fremont), Calif., to August Costa and Mary Vargas Costa.
Manuel was the youngest of seven children. He was orphaned at age 16 and decided to leave high school and become a truck driver and did so by accepting a job from his brother, August, in order to support himself. On April 8, 1951, Manuel married his high school sweetheart, Cecilia Juliann Schneider. They both were 18 years old and together they gave birth to eight beautiful children in nine years.
Manuel worked for his brother for several years before becoming a machinist with Federal Pacific Electric Co. in Santa Clara, Calif. He worked for this company until his brother persuaded him to relocate to the San Joaquin Valley and help out in the trucking business. Manuel did help out until he could open a trucking business himself and called it Big Horn Trucking, which later he sold to his son, Manuel. Manuel enjoyed building homes and investing in the real estate market. In 1976 at age 43, Manuel and Cecilia retired and built what they thought was their retirement home in the mountains of Sonora, Calif. It was beautiful there and they enjoyed their retirement and the great outdoors. Manuel loved traveling, camping, hunting, fishing, clamming and gardening.
While on vacation in 1981, they ventured through the great northwest to visit some friends, and while here they fell in love with the area and made an offer on a large ranch. Within that coming year they purchased and moved to Tahoe Ridge and started in the cattle business with his youngest son, Joel, raising Limousin cattle, which was the first time for either in the cattle business. Manuel enjoyed the ranching business until well into his 60s. In Manuel's early 70s a heart condition, which landed him in the hospital, and an operation following, left him with an aggressive early onset of dementia.
Manuel is survived by Cecilia and seven of his eight children, Richard and wife, Debbie Costa, of Shady Point, Okla., Manuel Michael and wife, Marie Costa, of Tracy, Calif., Christine Costa of Kooskia, Idaho, Kathleen and husband, Gary Allen, of Kooskia, Steven and wife, Nancy Costa of Pilot Hill, Calif., Lauralee and husband, Nicholas Rivera of Modesto, Calif., and Joel and wife, Nancy Costa of Kooskia; 36 grandchildren and 26 great-grandchildren.
He was preceded in death by son, David Costa, in 1975 and his brothers, Joseph and August Costa; and his sisters, Rose Rose, Edith Wydra, Norma Hirschfield and Mary Santos.
Freedom Bible Fellowship in Kamiah will be hosting a memorial service for Manuel on Saturday, Feb. 21, at 1 p.m. All are welcome to share in this celebration of life. There will be a luncheon provided immediately following the service. Trenary Funeral Home assisted the family.