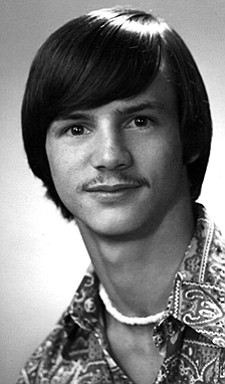 Dan Allen Doramus
Stites, ID
April 20, 1958 - February 21, 2015

Dan Allen Doramus, 56, of Stites, Idaho passed away Feb. 21, 2015, at his home after a short battle with cancer. Dan was born April 20, 1958, in Jerome, Idaho, to Dwayne and Norma Mackey Doramus. As a child the family moved to Kooskia where Dan grew up and graduated from Clearwater Valley High School.
March 29, 1980, Dan married his soul mate Deana Ulmer at the IOOF Hall in Kooskia. They moved around the state and as they moved their family grew. In 1980 while living in Boise their son, Dwayne, was born. They moved to Hailey, Idaho, and in 1983 their daughter, Desiree, was born. The family moved back to Boise. Dan and his business partner, Kevin Jones, operated a sprinkler installation company. He was very proud of the work they did. Dan's dream of owning and operating his business had to be put to the side. In 1996 his mother became ill and he moved the family home to take care of his mom.
His children were able to follow in his footsteps and graduate from Clearwater Valley High School. Dan, with Desiree by his side, loved to watch his son wrestle and was able to help coach his son and the other wrestlers. During the sports banquet, at the end of the season, Dan was able to present a video of the wrestlers during the season.
Dan was known for his sense of humor and "one liners" that were sure to bring a smile and a laugh. He was proud of his family and especially his wife whom he helped with her battle with cancer in 2005. His granddaughter and children meant the world to him. Dan had a passion for the outdoors. He loved to fish, camp and spend time with family friends. He was able to fulfill his dream of a four-wheeler ride. Dan is loved and will be missed by all his family and friends.
Dan is survived by his wife, Deana; a son, Dwayne (Alexis) of Lewiston; daughter, Desiree Doramus (Dave Hofmann) of Lewiston; a granddaughter, Izabell Doramus of Lewiston; a sister, Carol (Dennis) Ulery of Lewiston; a brother, Jerry (Trish) Doramus of Seattle; parents-in-law, Lewis and Jean Ulmer of Kooskia; sisters-in-law, Christy (Don) Owens of Kooskia, Betty (Donald) Gaeden of Central Point, Ore., and Sandy (Tim) Frisbey of Moscow; and several nieces and nephews.
He was preceded in death by both his parents and an older brother.
Contributions can be made to www.gofundme.com/hyt5ec.
Funeral services will be held at 11 a.m. today, Wednesday, Feb. 25, at Trenary Funeral Home. Interment will follow at Battle Ridge Cemetery.