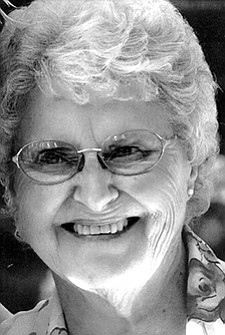 Maxine "Micki" Mae Weeks
Kooskia, ID
September 20, 1931 - February 12, 2015

Maxine Mae (Micki) Weeks, 83, of Kooskia, Idaho, died Feb. 12, 2015, at Syringa Hospital in Grangeville, Idaho. Micki was born Sept. 20, 1931, in Caldwell, Idaho, to Charles E. and Sadie A. Lee. Micki graduated from high school in Kooskia in 1949, along with the man she later married.
After graduation, Micki and her twin sister attended Kinman Business School in Boise.
Micki and Lyle Weeks were married Sept. 8, 1951, in Columbus, Ga. They were blessed with three sons, Gary L., Steven W., and William L. Weeks. Micki and Lyle had been married 53 years when Lyle passed away in 2004.
A proficient bowler, Micki belonged to a bowling team, her second family as she referred to them, never missed a game or tournament, and was the recipient of many bowling awards. Micki bowled for more than 50 years, never missing a year, until recently, when poor health forced her to put up her bowling ball.
Micki spent her early adult life working at her parents' business, the Ida Lee Motel, in Kooskia. She also worked in retail sales in various stores in Kooskia while, at the same time, proudly raising three sons and being very active in their schools.
She was an active member of the Kooskia First Presbyterian Church and served as deacon until her death.
A devoted fan of the Mariners since 1995, Micki seldom missed watching a game, and some favorite memories of hers were her trips to see the Mariners play in Seattle.
Micki was preceded in death by her husband, Lyle Weeks; her parents, Charles E. and Sadie A. Lee; brothers, John Cheesbrough, Gordon Cheesbrough, Leonard Lee and Linden Lee; her twin sister, Geraldine (Gerry) Denton, and sister, Lucille Miller.
Micki leaves behind her three sons, Gary (wife Trish) Weeks of Kooskia, Idaho, Steve W. Weeks, and Bill (wife Linda) Weeks of Lewiston, Idaho; three grandchildren, Ron Weeks, Tammy Weeks Kivi and Josh Weeks; and seven great-grandchildren, Brittany Weeks, Haylee Weeks, Rielee Renne', Kaydence Kivi, Chase Kivi, Lola Mae Weeks and Elliott Ryan Weeks; and many nieces and nephews.
Memorial services will be at 11 a.m., Saturday, Feb. 28, at Trenary Funeral Home Chapel in Kooskia, Idaho. Inurnment will be at Pine Grove Cemetery in Kooskia. A potluck dinner will follow at the Kooskia IOOF Hall. Arrangements have been entrusted to Trenary Funeral Home of Kooskia. The family suggests that memorials be made to the Kooskia Presbyterian Church or the charity of your choice.