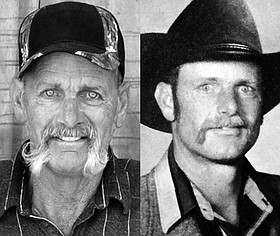 Terry Lee Edwards
Grangeville, Idaho
March 29, 1954 - February 10, 2015

Terry Lee Edwards, 60, passed away on Feb. 10, 2015, at St. Joseph's Regional Medical Center.
He was born March 29, 1954, in Fairbanks, Alaska, to Alvin C. (Bud) and Mardell Edwards. They moved to Grangeville in 1956 and he spent the rest of his life there.
He was married in 1975 to Shanna and had four wonderful children.
Terry loved horses and the outdoors and spent most of his time in the cab of heavy equipment or in the saddle roping steers. He was a partner of Edwards Excavation with his father and later worked for Grangeville Highway District and Idaho Forest Group.
He was preceded in death by his father, Bud Edwards; and his sister, Sheila Edwards.
He is survived by his mother, Mardell Edwards; and four children whom he loved dearly: Stacy and Dan Shephard of Lewiston, Dallas and Ronda Edwards of Kooskia, Cody and Bernadette Edwards of Grangeville, and Bret and Londa Edwards of Grangeville. He also had 11 grandchildren: Madison, Lexi, Ty, Dylan, Shada, Derek, Iseyda, Eliana, Radek, Addison and Treston.
Terry was a loving father with a heart of gold and a strong work ethic. We love you, Dad. Words can't express how much he will be missed.
Terry did not want a funeral service; a memorial team-roping event will be held at a later date.