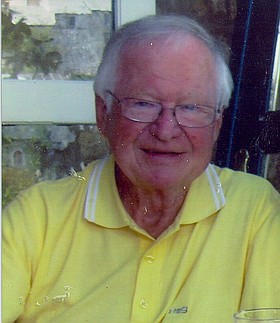 Bruno Lee Majnarich
Bellevue, Wash.
unknown - January 3, 2015
Bruno Lee Majnarich, 86, died Jan. 3, 2015, at Bellevue, Wash. He was born to George and Katheryne Majanrich in Shevlin Hixon logging camp near LaPine, Ore. He joined an older brother, Chuck. They were raised with a strong Yugoslavian upbringing. Lee had many interesting stories about his childhood in the logging camp.
The family moved to Great Falls, Mont., and Lee graduated from Great Falls High School in 1947. While attending high school he became very interested in boxing and eventually became the Golden Gloves Champion in the lightweight division. He was a member of the Theta Xi Fraternity and maintained life-long friendships with many of the "brothers." Lee's interest in boxing continued and he became the Oregon State Champion. He was always proud, but modest, that he had never been knocked down nor knocked out.
After graduating, he enlisted in the U.S. Coast Guard and served aboard the ice breaker (The Northwind). He enjoyed telling about being on the Northwind through the Panama Canal and then up to the air base in Thule, Greenland.
After discharge from the Coast Guard, he was employed by General Insurance Co., now known as Safeco Ins. His first assignment was to Lewiston, Idaho, as a claims adjuster. He traveled to many small towns in that area, one of them being Grangeville, Idaho, where he met his future wife, Irene Arnzen. He and Irene were married on May 12, 1956, in Grangeville at Sts. Peter and Paul Catholic Church.
Lee was transferred to Pasco, Wash., where their daughter, Kathy, was born in 1957. His next transfer was to the Chehalis office and two years later to Seattle, where their son, Mike, was born. Several years later they moved to Los Angeles, Calif., where they spent four years.
In 1969 he was asked to join Rosemurgy & Co. in Seattle, and began work in aviation claims losses. This was most interesting to Lee, as it involved plane losses, mostly in Aviation Loss. Most of the losses were insured by Lloyds of London, so Lee made many trips to London and became a very respected and highly regarded person in the aviation loss business.
Lee and Irene lived in their home in Bellevue for nearly 50 years, until moving to the Pacific Regent in Bellevue nearly two years ago. After retirement they traveled extensively and would spend winters in Palm Desert, Calif., where Lee became an avid golfer.
Lee is survived by his wife, Irene; children, Kathy (Dave) of Bellevue, Wash., and Mike (Melissa) of Cheney, Wash.; grandchildren, Megan and Eli; brother, Chuck (Billie); and nephews, Tom, Jeff and Rex.
A funeral Mass will be held at St. Madeleine Sophie Catholic Church on Jan. 8 at 11 a.m.
In lieu of flowers, the family suggests contributions to the Cancer Society or the American Stroke Association.