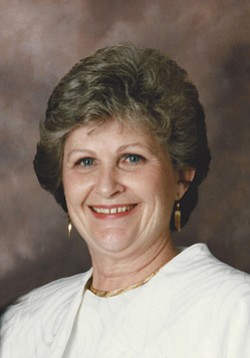 Julie Wassmuth
Blackfoot, Idaho
January 29, 1940 - December 30, 2014
Julie Wassmuth, 74, of Blackfoot, Idaho, passed away Tuesday, Dec. 30, 2014, at Bingham Memorial Hospital of a sudden illness. She was born Jan. 29, 1940, to Galen and Elnora Smith in Clarinda, Iowa.
Julie married Don Wassmuth on Aug. 21, 1966. She married her soul mate and traveled the world with him as he pursued many job interests. Julie loved to cook, gaining many cooking skills as she travelled with Don. She enjoyed gardening, decorating houses, feeding the wildlife and raising little dogs.
She raised three beautiful children, Jeff, Greg and Chris. She has six grandchildren and four great-grandchildren.
She is survived by her husband, Don; sons, Jeff (Juanita) of Pocatello and Greg (Tina) of Pocatello; and daughter, Chris (Randy) of Soda Springs; sisters, Ima Jean (Lowell) Hendricks of New Harmony, Utah; Gay (George) Izatt of Montpelier, Nancy Smith of Blackfoot and Sue Smith of Afton, Wyo.
She was preceded in death by her parents.
At her request, Julie was cremated under the direction of Hawker Funeral Home in Blackfoot and a memorial service will be held in the summer.
Condolences may be sent to the family online at www.hawkerfunrealhome.com.