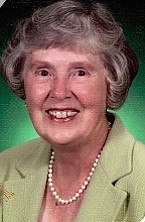 Helen J. Walker
Grangeville, Idaho
December 10, 1928 - January 17, 2015

Helen J. Walker, 86, passed away Jan. 17, 2015, in her home at Grangeville, Idaho. Helen was the first child born to George Sr. and Tena Vrieling on Dec. 10, 1928, in Grangeville. She was later joined by two sisters and two brothers. Helen was accustomed to hard work, living on the farm and shared many stories of growing up in the 'good ole days.' She attended a one-room schoolhouse and Grangeville schools, graduating from Grangeville High School in 1947. She worked at the Five and Dime Store, A&F Co. and Grangeville Freight Co.
Helen married Jerry Walker on Nov. 21, 1947, at Grangeville. They raised four children. Family was everything to Helen. She put her heart into raising her children in a loving, Christian home. Helen was later blessed with 14 grandchildren. She spoiled them with love and time — tea parties, trips to McCall, playing games, reading a book; Grandma Helen was the best ever. Great-grandchildren arrived as the family grew and even though she wasn't as close to all of them, she loved seeing them whenever she could, remaining to carry on that 'Grandma Helen' way about her.
After retirement, Helen and Jerry moved to Lewiston, Idaho. There, they established new acquaintances and Helen became friends with several ladies by playing cards in the Valley Bridge groups. She was very good at bridge and loved a challenge. During this time, Jerry and Helen also traveled extensively.
Jerry became ill and died in 1996. Helen moved to Clarkston, Wash., and continued to enjoy her bridge groups, staying active at Our Lady of Lourdes and her family. As time went by, she became friends with Phil Kilwien and enjoyed his company and his families' until his death in 2014.
September 2012, Helen decided to move back to her hometown, Grangeville. She longed to go back to her roots and be close to her siblings and friends there.
Faith and love for her Lord was demonstrated by the way she lived. Helen was active in the church at Sts. Peter and Paul in Grangeville and at Our Lady of Lourdes in Lewiston. Besides loving a great card game, Helen was an avid reader, usually had a puzzle going in the winter, loved to garden, watch the birds in her back yard and kept them fed. She read her Bible every day without fail and if you asked her to pray for you, she didn't do it just once, it was a daily event.
Helen was preceded in death by her parents, George, Sr. and Tena Vrieling and stepmother, Beulah Vrieling; brother-in-law, Dick Arends; husband, Gerald S. Walker; and granddaughter, Jessica Jay.
She is survived by her children, Bruce (Diane) Walker of Grangeville, Beverly (Dave) Williams of Lewiston, Nancy Walker of Grangeville, Brenda (Bruce) Imel of Clarkston, Wash.; sisters, Johanna (Orville) Biggers, Bertha Arends; brothers, John (Jeanette) Vrieling and George, Jr. (Ruth) Vrieling all of Grangeville; many nieces and nephews; 14 grandchildren, Molly, Tena, Milli, Kyle, Sheldon, Emily, Mike, Matt, Jennie, Jarod, Lucas, Kathrine, Jonathon and Stephen; and 18 great-grandchildren.
Viewing will be held from 2-6 p.m. Friday, Jan. 23, at Blackmer Funeral Home, Grangeville with the Vigil Service following at 7 p.m. at Sts. Peter and Paul Church. Funeral Mass will be held Saturday, Jan. 24, at 11 a.m. also at Sts. Peter and Paul Catholic Church. Burial will follow at Prairie View Cemetery.
Donations may be made to Sts.Peter and Paul Parish, Grangeville Gideons International, P.O. Box 371, Grangeville, ID 83530 or a charity of your choice. Send condolences to the family at Blackmerfuneral home.com.