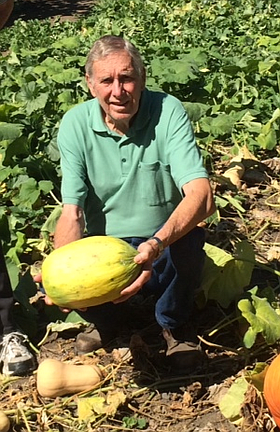 John "Jack " R. Gruell
Riggins, Idaho
December 13, 1929 - January 3, 2015

John R. "Jack" Gruell, 85, of Riggins, Idaho, passed away peacefully on Jan. 3, 2015. He was born in Ventura, Calif., Dec. 13, 1929, the youngest son of George Melvin Gruell and Genevieve Rudolph Gruell. He was educated in the local schools, graduating from Ventura High School in 1948. In his senior year, Jack was selected as a pitcher for the Southern California High School All-Star baseball team by the Ventura County Sports writers, along with one of his teammates. The Southern California team played the Northern California team at Babe Ruth Field in Ventura. Jack then enrolled at Ventura Junior College, where he was voted Most Valuable Player in his last year (1950). The day after graduation, he signed a professional baseball contract with the (then) New York Giants, and was assigned to the Medford Rogues in the Far West League.
At the end of that season Jack returned to Ventura, and in October 1951, he received his notice to report for his Army physical. On Jan. 3, 1951, he was ordered to report for induction in the U. S. Army. After basic training at Fort Ord, Calif., he was sent to Artillery School at Fort Sill, Okla. Jack arrived in Korea that June, where he was assigned to the 105th Howitzer artillery unit, with the 2nd Division. That fall, he volunteered to accompany one officer and one enlisted man (as forward observers) as the radio operator/ spotter on Heartbreak Ridge.
He was honorably discharged in 1952 and returned to Ventura. On July 26, 1952, he married Mary Elizabeth Webster. That year the Giants assigned Jack to the Muskogee (Oklahoma) Giants in the Western Baseball Association. He reported there for that season. Their son, John, was born in Muskogee the following year. At the end of that season, they returned to Ventura and Jack worked in construction during the off season.
The next season, the Giants assigned him to the California League. This league alternated their games between Ventura and Santa Barbara. At the end of that season, the Giants released him as "too old" at 23!
While Jack was working for numerous construction companies and learning the ceramic tile installation business, his second son, Ron, was born in 1956.
In 1967 Jack was hired as the athletic trainer/equipment man at the new, just opening Moorpark Community College in Moorpark, Calif. His main responsibility was treating athletic injuries and rehabilitating injured players. Later on, he also taught classes in athletic training, archery and backpacking. Jack and Mary divorced in 1972.
On Aug. 5, 1977, Jack married SueAnne Strathearn in Simi Valley, Calif., and was a warm and loving step-father to her daughters, Allison and Kimberly. In 1981 Jack retired from Moorpark College, and in 1983 they sold their home in Simi Valley and moved to Riggins, Idaho. They built their dream home on the beautiful Salmon River. In his spare time, Jack enjoyed hunting and fishing. Jack and SueAnne were avid gardeners and enjoyed sharing the garden's ample harvest with their many friends and family. Jack later became interested in wine making, so they planted a small grape vineyard. It was not long before they were winning awards for their various wines at the Idaho County Fair.
Jack is survived by his wife of 37 years, SueAnne; his sons, John (Kim) of Carmichael, Calif., and Ron (Sharon) of Ventura, Calif.; stepdaughters, Allison Strathearn of Apache Junction, Ariz., and Kim Strathearn of Boise, Idaho; grandsons, George Gruell, Aaron Gruell and Dustin (Bianca) Gruell; granddaughters, Rhyann (Timmy) Burrows, Casey (Mike) Alfonso; and his loving brother, George Gruell of Carson City, Nev.; and numerous great-grandchildren.
Jack's request was to be cremated and his ashes scattered in the spot where he shot his first Idaho deer overlooking the Salmon River many years ago. The family will be having a small celebration of life ceremony at a later date.
Memorial donations in Jack's honor may be made to his favorite charity, the Injured Marine Semper Fi Fund.org which serves soldiers and families from all branches of the military.