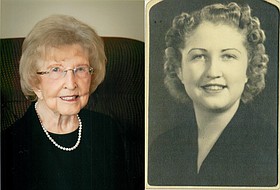 Kathryn Green
Boise, Idaho
April 1, 1920 - January 13, 2015

Kathryn Green, 94, passed away peacefully, surrounded by family in her Boise home Tuesday, Jan. 13, 2015.
She was born to Maude and Martin Ayers on April 1, 1920, in Grangeville, Idaho. She was salutatorian of her senior class and graduated from Grangeville High School in 1938. She then attended the University of Idaho where she majored in music and was a member of Kappa Kappa Gamma Sorority. Her accomplishments at the U of I included accompanist for the Vandaleers, president of Alpha Lambda Delta – a national scholastic honorary; a member of Spurs - a service honorary, and a member of Sigma Alpha Iota – a music honorary.
In June 1941 she married James Green, a farmer on the Camas Prairie. In Grangeville, Kathryn and James raised nine children. Their home was filled with piano music as Kathryn practiced upcoming concerts and events. She accompanied the Camas Choristers, church choir and other community musical groups. Her keyboard talents were exhibited on the pipe organ during church services at Sts. Peter and Paul Catholic Church. While caring for a large family, Kathryn volunteered her time at Syringa Hospital.
Upon their retirement from farming in 1986, James and Kathryn moved to Santa Barbara, Calif., and lived for four years. Kathryn was employed there at Cottage Hospital. Feeling the desire to be closer to family, they moved to Lewiston in the spring of 1990. While in Lewiston, Kathryn was an active volunteer at St. Joseph Regional Medical Center, and an organist at St. Stanislaus Catholic Church. Kathryn was a 50-year member of PEO Chapter BR in Lewiston and Chapter AC in Grangeville.
Following the passing of James, Kathryn moved to her daughter, Kathy's, home in Boise. Kathryn enjoyed playing bridge with her new friends at the Boise Senior Center.
Kathryn was known as a fabulous cook and opened her door to her children's friends. The hundreds of people she came into contact with will remember Kathryn as a warm, giving and gracious soul. She was enthusiastic about playing bridge, enjoyed being with her many friends and above all, loved spending time with her large family.
Kathryn is survived by her brother, Dr. John Ayers and wife, Lois of Houston, Texas; four daughters, Kathy Green of Boise, Susan Green of Clarkston, Anne Green of Seattle, and Mary Kay Williams and husband, Brad of Spokane; three sons, David Green and wife, Maureen, Steven Green and wife, Connie, Mark Green and wife, Michelle, all living in Grangeville. Kathryn was blessed with 19 grandchildren and 19 great-grandchildren. Her husband, James and two sons, James Green Jr. and Michael Green preceded her in death.
There was a memorial Mass at Sts. Peter and Paul Church in Grangeville on Saturday, Jan. 17.
Donations can be made in memory of Kathryn Green to Hospice Care St. Luke's Hospital Boise or Boise Senior Citizens Center.