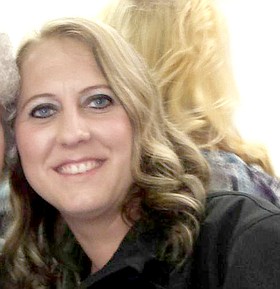 Kimberly Dawn Pitcher Beeler
Lewiston, Id
November 30, 1980 - January 14, 2015

Kimberly Dawn Pitcher Beeler, 34, of Lewiston, Idaho, died unexpectedly Wednesday, Jan. 14, 2015, at St. Joseph Regional Medical Center.
She was born Nov. 30, 1980 to Donald Pitcher, Jr. (Dee) and Leanna (Bashaw) Pitcher. She attended school in Elk City, Idaho, and Lewiston. She graduated from Lewiston High School in 1999.
Her jobs included seven years with Federal Express, which she became known as "the cute blonde Fed Ex girl and Clearwater Paper where she was employed at the time of her death. Kim's most important job was mother to her two children, Orian, 13, and Raeley, 9.
She loved the outdoors. She rode dirt bike, street bike, camped, hiked, fished and rafted. She loved spending time with her kids and dog. She loved horses and participated in O-Mok-See events in Elk City, Grangeville and Lewiston, winning many ribbons. She rode in the Border Days parade drill team.
She married Levi Beeler in August 2002. They had two children. Later they divorced, but remained friends.
She was preceded in death by grandparents, Don and Iris Pitcher, and Junior Bashaw; uncles, Perry Pitcher, Randy Bashaw, Jeff Bashaw; and cousins, Shawn Smith and Heather Lowry.
She is survived by her father, Dee Pitcher; mother, Leanna Bashaw; children, Orian and Raeley Beeler; brother, Casey (Lindsay) Pitcher; boyfriend, Cody Benjamin; seven step-siblings; grandparents, Hal and Margie Smurthwaite, Bertha Bowen; aunts and uncles, Shala (Lyle) Rowan, Rena (Gary) Ball, Erion (Mark) Smith, Roland Bashaw, Jean (Eric) Unruh, Chris (Steve) Hooper, Brenda Bashaw; and numerous cousins and friends; and her dog Luka Belle.
She will be remembered as "the baby who bounced her head on the couch," her little, squeaky voice, her beautiful smile, her sense of humor, her love of life, as a dedicated mother, and the best friend of all. She will live in our hearts forever and we are all better people for having had her in our life. Love and miss you, Kimmy.
Thanks to Kimberly's generous gift of organ donation, she lives on in many others giving them the chance to fulfill their life's dreams.
Memorial services will be held Saturday, Jan. 24, at noon at the Salvation Army, 1220 21st Street in Lewiston. A potluck dinner will follow. Arrangements are by Mountain View Funeral Home of Lewiston.
In lieu of flowers, an account has been set up at Potlatch No. 1 Federal Credit Union in her children's names.
Sign the on-line Book of Memories at www.mtviewfuneralhome.com.