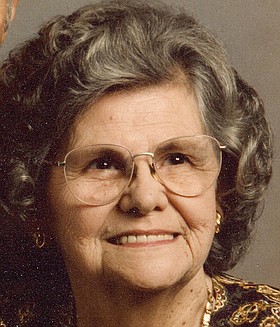 Marjorie J. Moore
Lewiston, Id
May 21, 1919 - January 14, 2015

Marjorie J. Moore, 95, of Lewiston and formerly of Grangeville and Cottonwood, died Jan. 14, 2015, in Lewiston.
She was born to Harold D. and Thelma (Stockton) Squires in Corona, Calif., on May 21, 1919, their only child. She grew up in southern California, graduating from Roosevelt High School in Fresno, Calif., in 1937, and completing a secretarial course at Fresno Technical Junior College, also in Fresno, the next year.
She met her future husband, Dwyght Moore, at a USO center at Hanford, Calif. They were married on Oct. 22, 1944, in Prospect, Ore. She held several clerical positions in California before and during the early years of their marriage. Later, she worked for a time in the office at Fenn Ranger Station on the Selway River in Idaho.
After raising her family in Oregon and Idaho, she and her husband enjoyed RV camping and traveling. She loved to read, play the piano and be with her grandchildren. She was a member of Order of the Eastern Star in Grangeville.
She was preceded in death by her husband in 2008; her parents; a son, Kenneth Douglas Moore; and a grandson, James Longmore.
She is survived by her son, Rance (Zona) Moore of White Bird; daughters, Marlene (Don) Matson of Lewiston, and Darla Buckley of Yelm, Wash.; grandchildren, Theron (Kris) Moore of Clarkston, Wash., Angie (Craig) Olmsted of Yelm, Wash., Charlene (Tom) Polek of Deary, Idaho, and Debbie Matson of Lewiston. She is also survived by 13 great-grandchildren and one great-great-grandchild.
A private family gathering in Oregon is planned in the spring.