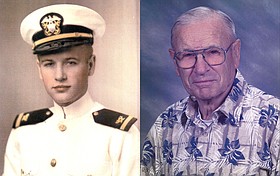 Lewis Alan Crea
Cottonwood, Idaho
December 4, 1923 - January 19, 2015

Lewis Alan Crea, was born in the family farmhouse near Fenn, Idaho, the fourth of five sons on Dec. 4, 1923, to William J. and Mary A. Toennis Crea. He passed into eternity on Jan. 19, 2015, of old age and an "overabundance of knowledge" at Brookside Landing in Orofino, Idaho.
He attended school in Grangeville and graduated from Grangeville High School. He joined the Navy and started college at the University of Idaho. He was transferred to the Montana College of Mines and then on to the University of Illinois where he graduated with a degree in Civil Engineering. After graduation he was stationed in Honolulu. Upon discharge he went to work for Morrison Knudsen as a purchasing engineer on Anderson Ranch Dam.
A call from his father brought him back to the family farm where he began his career in farming. In 1949, he met the girl of his dreams, Roberta McAllister, and they were married May 16, 1950, in Grangeville at the Sts. Peter and Paul Catholic Church.
He was a member of the Grangeville Elks Lodge, Fenn Highway District, Camas Prairie Pork Producers, Idaho County Cattlemen and the Cottonwood School Board. He served as an Idaho County Commissioner for 14 years. He never tried to hide his political preferences and said he only voted for two people in his life, Ike and Reagan. The rest of the time he was voting against someone.
Lewis and Roberta's lives were busy with the farm and ranch raising wheat, barley, cattle, hogs and nine children. Lewis was proud that all of his children had the opportunity to attend college and believed a college education was worth more than a "cab on a tractor."
As the children grew and Mike came home to farm in 1976 after college graduation, Lewis and Roberta found time to travel. They especially enjoyed going to many warm places all around the world during the winter months and very much enjoyed Australia, New Zealand, South Pacific Islands, Hawaii and Florida. They also traveled to Europe while son, Brian, was in the military stationed in Germany.
He enjoyed boating and picnicking at Dworshak Reservoir with the family as well as spending time at his cabin on the Clearwater. After Lewis and Roberta moved to town in 1991, Lewis enjoyed having coffee with his friends and was often seen walking home with a bag of mail.
He is survived by his wife of 64-1/2 years; his children, David (Helen), Steve (Susan), Mike (Lu), Julie (Ian), Laurie (Rock), Barbie (Richard), Shawn (Cindy), Layne (Summer), Brian; a brother, Bill Crea; and sister-in-law, Ann Crea. He also boasts many grandchildren and great-grands; and numerous nieces and nephews.
He was preceded in death by his parents and brothers, George, Ralph (Florence), and Earl (Alice).
Suggested memorials are St. Mary's Hospital Foundation Fund or join the NRA.
The funeral was held Jan. 26 at St. Mary's Catholic Church in Cottonwood with graveside following.
Uhlorn Funeral Home was in charge of arrangements.