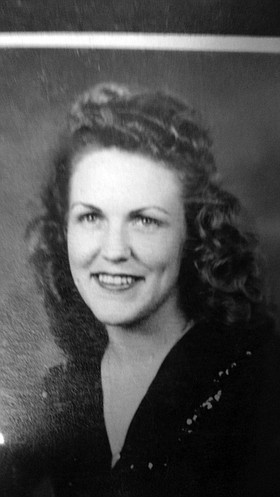 Charlotte Moore
Grangeville, Idaho
unknown - unknown
Charlotte Moore went to be with our Lord and Savior after a long life of 94 years. She passed as she wanted, at home and with family close.
Charlotte Mae Frosig was born in Wilder, Idaho, on Nov. 9, 1920, to Michel and Nina Frosig.
She worked during her youth as a telephone operator, and at the age of 24 she married Elmer Moore. They lived in Homedale, Idaho, where she worked at her family business the Golden Gate Mercantile. In 1959, Charlotte and Elmer moved with their three children to Grangeville, Idaho, where Elmer worked as 1st. Sgt. in the National Guard until his retirement. Charlotte worked in various jobs including Lindsley's Furniture, Crossroads Café, Idaho State Transportation and the Charcoal Broiler.
She enjoyed quilting, was an accomplished painter, and donated her time and cooking for community events throughout her years. Gardening was her escape; however, and she would spend hours gardening at her eldest son's home on the Salmon River, with daughter-in-law, Norma. Her life was very full, and her love of family very strong.
After they retired, Charlotte and Elmer learned to deep-sea fish and every summer they would travel to the ocean. This also gave them a chance to see grandchildren and other family members at their annual family reunions and especially to spend time with their favorite niece, Anita (Mel) Day of Boise.
Charlotte's husband Elmer preceded her in death in 2009. She is survived by her sister, Ina Yost of Caldwell, Idaho; and children, Stan (Norma) Moore of Lucile, Idaho, Tim (Dottie) Moore of Tacoma, Wash., and Carol (Jim) Howe of Stites; grandchildren include, Mike(Ronda), Chad (Tracy), and Darin (Christy) Moore, Pam (Daniel) Wren, Jonna (Drew) Robb, Jason (Tina) and Jamie (Christine) Johnstone, Tammy (Dan) White, and Tomasina and Bryant Moore. She has many great-grandchildren and great-great-grandchildren.
There will be an informal gathering for family and friends on Saturday, Aug. 1, at 11 a.m., at Blackmer Funeral Home.
The family asks that flowers be sent to Blackmer Funeral Home, or please make a donation to Grangeville Hospice for their incredible care these last few years of her life. Send condolences to the family at Blackmerfuneralhome.com.