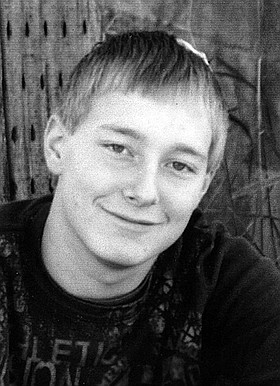 Christopher J. Schmidt
Greencreek, Idaho
unknown - unknown
Our beloved son, brother, nephew, cousin and friend, Christopher J. Schmidt, 23, was taken from us too soon on Wednesday, June 10, 2015. Chris was born March 23, 1992, to Rhonda and Phil Schmidt in Moses Lake, Wash., and spent his early years on the bow of his dad's fishing boat on Moses Lake, O'Sullivan and Potholes reservoirs. This was probably where Chris' love for the outdoors began. In April 1998, the family moved to Greencreek, to his great-grandfather's homestead, where four generations of Schmidts have been raised.
Chris attended school in Cottonwood, where he participated in 4-H, first showing sheep and later a steer, and played football. During his junior year, the family played host to German exchange student, Phillip Smakman. Chris and Phillip became fast friends and enjoyed their time together. Chris graduated from Prairie High School in 2010 and went on to get his associate degree in auto mechanics from Lewis-Clark State College in 2012. Chris' love of mechanics and driving a truck led him to leave his indoor job at Schweitzer Engineering Laboratories, Inc., and go to work logging for KCA LLC. Owners Kelly and Carrie Scott loved Chris like their own son, and Chris was able to work beside one of his best friends, Karl Scott. Chris enjoyed every minute of the time he spent logging and with his second family, the Scotts.
Chris gave his heart to Charlene Hunter and proposed to her in March of this year. Chris and Charlene planned to be married next year. A big brother to Keely and Carson, Chris cherished his relationships with his younger siblings and took his responsibility as big brother seriously. Making and maintaining friendships came easily for Chris. He had so many close friends who knew if they ever needed anything, Chris would drop whatever he was doing to be there for them.
Snowmobiling, four-wheeling, camping, shooting guns, video games, fishing, going to the beach and spending time with family and friends were some of Chris' favorite things. Chris was easy to love and had a heart of gold. He was fun-loving and had many friends who were very dear to him. Chris had a contagious (and sometimes mischievous) smile and sparkling golden eyes. He will always be remembered for his awesome hugs and gentle soul.
He is survived by his parents, Rhonda and Phil Schmidt; sister, Keely; and brother, Carson, all of Cottonwood; fiancée, Charlene Hunter of Harpster; and maternal grandparents, Larry and Elizabeth Hess of Nezperce. Chris had numerous aunts, uncles and cousins, Karen Hess and Jordan, Lindsey and Chris Woltering and Parker, Linda Dalton, Joann and Gene Hollingsworth, Leann and Clay, Renae Schmidt and Jordan, Becky and Duane Schmidt, Jennifer and Tyler, Debby Schmidt, Ruth Moody and husband Mike, Jason, Justin and Kelcee, John and Diana Schmidt, Jeremy and Chandra, Monte and Johanne, DJ, Leah, Eve and Hannah.
Chris was preceded in death by paternal grandparents, Harry and Clarice Schmidt; his aunt, Beth; and uncle, Hank.
A funeral was held for family and friends with a Rosary Tuesday at St. Anthony's in Greencreek, followed by a funeral Mass. Burial followed at the Greencreek Cemetery. Chris will be laid to rest on the prairie he held so dear.
Any donations can be made in Chris' name to either Boy Scout Troop 638 or to Prairie High School's Track and Field Renovation Fund.
Those were the days; hard work forever pays; now I see you in a better place.
How could we not talk about family when family's all that we got?
Everything I went through you were standing there by my side,
And now you gonna be with me for the last ride.
It's been a long day without you my friend,
And I'll tell you all about it when I see you again.
We've come a long way from where we began.
Oh I'll tell you all about it when I see you again.
When I see you again.
Chris died with his boots on, doing what he loved.
Uhlorn Funeral Home was in charge of arrangements.