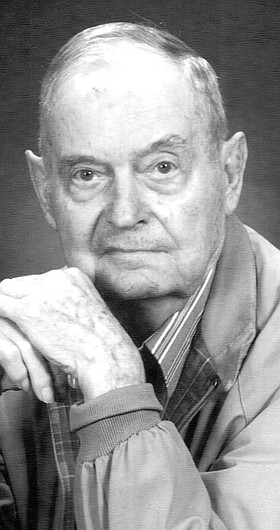 Ernest Ludwig Grabski
Woodburn, Ore.
December 31, 1922 - June 18, 2015

Ernest Ludwig Grabski, 92, died on June 18, 2015. Ernest was born Dec. 31, 1922, at Grangeville, Idaho, to Emil and Marie (Hartert) Grabski. Ernest served in the Army from 1946 to 1947. Ernest moved from Idaho to Oregon marrying Doris Schmitt on May 20, 1972, in Mt. Angel, Ore. Ernest was a wheat farmer and in his spare time he enjoyed ham radio, tennis and computer. He was affiliated with Knights of Columbus and served on the Gervais Council.
Ernest is survived by his stepchildren, Joseph Schmitt of Salem, Mary Virginia Kowash of Woodburn, Richard Schmitt of Sacremento, Robert Schmitt of Springfield, Michael Schmitt of Salem; brother, Art Grabski of Grangeville, Idaho; seven grandchildren and eight great-grandchildren.
Ernest was preceded in death by his wife, Doris, and stepson, Jim Schmitt.
Ernest will be dearly missed by family and friends.
Visitation will be held Monday, June 29, from 1-5 p.m. at Simon-Cornwell Colonial Chapel in Woodburn.
Funeral Mass will be held Tuesday, June 30, at 10:30 a.m., Rosary prior to Mass at 10 a.m. at St. Louis Catholic Church. Interment will follow at St. Louis Catholic Cemetery.
Memorial contributions can be made to Sacred Heart Catholic School in Gervais, Ore.
Arrangements by Simon-Cornwell Colonial Chapel of Woodburn.