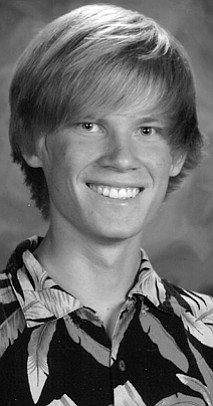 Seth Michael Garrettson
Grangeville, Idaho
July 21, 1996 - June 12, 2015

Seth Michael Garrettson, 18, went to be with his Lord and Savior June 12, 2015. Seth was born July 21, 1996, at the Air Force Academy in Colorado Springs, Colo. He graduated this year from Grangeville High School after attending three years of high school in San Antonio, Texas. Seth loved this area with its mountains, gorges, rocks and rivers.
He enjoyed biking, swimming, hiking, skateboarding and camping. He also liked to hunt morels and search for antler sheds with his lab, Sally.
Seth loved to draw and planned on a career in the field of art. He took pleasure in cooking and barbecuing special meals for his family and friends. Seth is remembered as a very loving and caring young man with an ever-present smile and a friendly greeting for all he met. Seth deeply loved his family and friends, and he will be profoundly missed.
Seth was a ray of sunshine and a joy from the day he was born. He leaves a big hole, but we are comforted to know that he knew God is real, and he trusted in Him for his eternal salvation. We know that he is with his Creator, and reunited with his mother.
Seth was preceded in death by his mother, Michele Dawn Kerley-Garrettson in June of 1998. In Texas, he leaves behind his father, Sean Garrettson, and second-mother, Stefanie Garrettson, two brothers and grandparents.
In Grangeville, he leaves his grandparents, George and Cherylyn Kerley; his uncle, Michael; aunt, Christa; and cousins, Ryan and Michayla Kerley; also his great-grandmother, Lola McCollam in Montana; and many other family members.