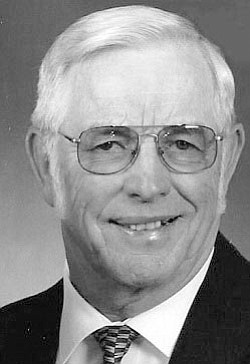 Frank H. DeHaas
Grangeville, Idaho
March 20, 1931 - June 23, 2015
Frank H. DeHaas, 84, the best father and grandfather we could ask for, passed away peacefully in his sleep at his home on June 23, 2015, after a five-month battle with cancer.
Dad was born on March 20, 1931, to William DeHaas and Clara Workman. He grew up on a Camas Prairie farm just outside of Grangeville along with his seven brothers and three sisters. He helped work the family farm until he joined the Army.
He married his childhood sweetheart and eternal best friend, Rosella Gortsema, on Sept. 6, 1951. In 1952, Dad was drafted into the Army. They moved to California and then to North Carolina where he was trained in the communications section in an artillery battalion.
Upon returning to the Camas Prairie, Dad and Mom farmed in the Greencreek area. In the winters, Dad and brother, Marion, built several houses and did various carpentry jobs in the Grangeville area. He was a road commissioner for the Union Highway District and retired in 1997. Since the age of 18, he did maintenance work for the Christian Reformed Church where he was a lifelong member. He always stayed busy fixing things for himself and others.
Dad was a detailed craftsman; he enjoyed woodworking especially making scroll saw creations with his grandchildren. He was a well-respected farmer. One of his greatest compliments from his neighbors was "Frank, we appreciate that you never fired up your combine or tractor on Sunday." Dad always reserved Sunday for the Sabbath. He was a man of great faith, no matter the circumstance.
Dad was quite the storyteller. He enjoyed telling stories to his grandchildren of the "olden days" and sharing stories with siblings about fond memories of their past. Grandkids were his life. He talked to them often. He was always ready to provide a necessary ear and pass his wisdom if necessary. Most of his grandchildren learned how to drive tractor on his old restored John Deere AR under Grandpa's watchful eye.
His last wish was to be able to drive his 4520 John Deere tractor to the recent June farm sale in Cottonwood. Dad was able to drive the last mile and said "it sure felt good," with the most genuine smile.
He is survived by Rosella, the love of his life for 63 years; children, Judy DeHaas of Grangeville, Arlene Baerlocher (Joe) of Greencreek and Calvin ( Lorrie) DeHaas of Coeur d'Alene; grandchildren include Dan (Amanda), Matt, and Steven Baerlocher, Kristin, Kelsi, Kaleb and Kolby DeHaas; siblings, Don (Myrna) DeHaas, Bernard (Barbara) DeHaas, and Sharon (Cork) Hogaboam.
He was preceded in death by his parents and his siblings, John, Gerrit Richard, Marion, Gary and Robert DeHaas, Betty Forseth and Patricia Fischer.
A celebration of his life was held at the Grangeville Christian Reformed Church on Saturday, June 27, with a graveside service following at the Prairie View Cemetery.
Special appreciation is given to his doctors and Syringa Hospice for their compassionate care during his illness. The family suggests memorial contributions be made to Syringa Hospice or the Grangeville Christian Reformed Church Memorial Fund.
Blackmer Funeral Home was in charge of arrangements.