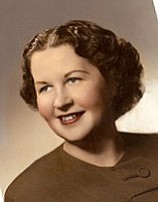 Carmelita G. Spencer
Grangeville, Idaho
August 24, 1922 - February 25, 2015
Carmelita G. Spencer, 92, of Grangeville, passed away Feb. 25, 2015. She was born Aug. 24, 1922, at Potlatch, Idaho, to Roy Charles Guernsey and Huldaguard Mueller Guernsey.
Her father owned a grocery store in Onaway where she learned practical applications of Japanese, Greek, Italian, and Swedish while waiting on store customers who were Potlatch millworkers. She attended Onaway's two-room school through the eighth grade and then graduated from Potlatch High School.
She then went to the University of Idaho and graduated with a degree in home economics. She moved to Grangeville in 1943 and taught home economics, science and math at Grangeville High School. Because she had skipped grades in her elementary years, she was not much older than her students.
In 1946, she married John Wood Spencer, a Grangeville rancher, and became involved in many community activities. She helped to establish the Syringa General Hospital Auxiliary and a taxing district to take over the hospital when the city no longer was able to manage it. She was the first elected chair of the new board of trustees after the hospital district was formed. She served as a trustee for more than 10 years and was a founding member of the Syringa Hospital Foundation.
She was instrumental in the establishment and building of the Bicentennial Horizons Museum. She organized an October flea market for many years to raise funds for the museum. She received the Esto Perpetua award from the Idaho State Historical Society for outstanding accomplishments in preserving Idaho's heritage.
Her other passions were the University of Idaho and the Republican Party. She was a past member of the University of Idaho Foundation and supported the University in many ways, including the Spencer Library Endowment Fund. She received the U of I Alumni Association Jim Lyle Volunteerism Award in 1996. She was a faithful Republican, planning many political events and Lincoln Day dinners and serving on the Idaho County Republican Central Committee. She attended President George H. W. Bush's inauguration. She spent many hours on the phone, sitting at the kitchen table, drumming up support for her causes and encouraging people to vote.
She started an American Association of University Women chapter in Grangeville. Other activities she was involved in were "sky watch" during the Cold War period, League of Women Voters, the Grangeville Centennial Library, and the Central Idaho Art Association. She and John were among the founding donors of the Idaho Community Foundation. She served on the Idaho Public TV board as well.
She loved to cook and entertain and was a member of two bridge clubs for many years. She loved to travel, particularly to the warm beaches of Mexico and the art communities and Native American trading posts in the Southwest. She was a devoted member of the Holy Trinity Episcopal Church.
She is survived by her three children: Craig Spencer and his wife Jane, Grangeville; Charlie Spencer, Spokane; and Laura Spencer and her husband, Robert Dodge, Newark, Del. Her four grandchildren are Jay, Lee, Trevin and Regan Spencer; and she has two great-grandsons, Henry and Thomas Spencer. Her later years were sweetened by her good friends and companions, Pam Northcutt and AI Basler.
She was preceded in death by her husband, John, in 1988 and her son, David, in 1950.
The family wishes to thank her caregivers, Sally Soltman, Sonia Dalgliesh, Alice Ferguson, Gayle Silveria, Jeanne Nott, Joe White, Irma Whitehawk and Anna Fischer. It was through their help we were able to care for Carm at home until the last three weeks. In lieu of flowers, memorials can be sent to the Syringa Hospital Foundation, the Bicentennial Horizons Museum, or the Margaret Ritchie School of Family and Consumer Sciences, University of Idaho.
Services will be held at 11 a.m. today, Wednesday, March 4, at the Methodist Church in Grangeville. Burial will follow at Prairie View Cemetery. Services are under the direction of Blackmer Funeral Home, Grangeville.
Send condolences to the family to blackmerfuneral home.com.