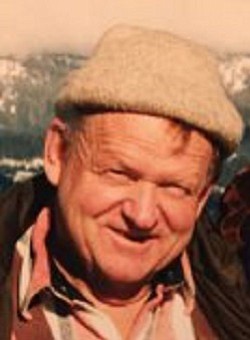 David E. Cereghino
Lucile, Idaho
February 13, 1936 - February 20, 2015
David E. Cereghino has died at the age of 79. It was a life filled with family and friends, hope for the future, hard work and the expectation of a full life every day. David was born to David and Gerda Cereghino on Feb. 13, 1936, in Sherwood, Ore. He joined his sister, Ruth, who was 3 years old at the time. They were second generation Americans from immigrant families of Italian and Swedish descent. Life started early for David, helping the family grow onions on the family truck farm as well as the daily chores of taking care of the garden, livestock and everything else that needed "doing" in the '30s and '40s.
Always a farmer, David was active in the FFA in his high school years and his Guernsey cow, Joy, won numerous ribbons at the Washington County Fair. He hand-milked Joy every day for 17 years with the exception of his college and military years, when his mother, Gerda, filled in. David graduated from Sherwood High School in 1953. The following year, he joined the ROTC program at Oregon State College (OSC). To the astonishment of family and friends, David graduated from OSC in 1957 after four fun-filled years and the added benefit of many lifelong friends. After graduation, David was commissioned as a Second Lieutenant in the United States Army.
On Feb. 13, 1960, David married Jo Ann Austin, the love of his life. They married on his birthday so that he would never forget their anniversary. Nearly 11 months later their daughter, Gina, was born, quickly followed by brothers, Dave and Mike, and little sis, Carrie.
Always accustomed to hard work, David quickly expanded the family onion farm from a handful of acres to one of the larger onion farms in western Oregon. He raised cows, pigs and chickens, and invested in real estate. He also built a packing shed operation for potatoes and onions, much of which were loaded in containers and exported to Japan. The farm and packing operation were later sold so David and Jo Ann could fulfill their lifelong dream of owning a cattle ranch on the Salmon River in Idaho. In 1978 they purchased their ranch in Lucile, Idaho, on John Day Creek. It took two years to finish the move; exiting one business to take on their hardest project of ranching on the Salmon River. It was a task they both enjoyed and worked very hard at for the remainder of their lives.
Raising cows on the Salmon River was difficult so they diversified into custom farming, finding marketable crops like strawberries and anything else to make ends meet. In 1980 David embarked on the arduous task of constructing a hydroelectric plant on John Day Creek. After six tedious years of planning, permitting, environmental impact statements, intervention and finally construction, the power plant went on-line in September of 1986. David owned and operated the plant until it was sold to Idaho County Light and Power in 2011. In the early 1990's David ventured into real estate, selling numerous ranches in Idaho and Oregon. Despite his success as a realtor, his greatest achievements were the friendships he developed along the way.
David never met a stranger and held friendships close. Good food, good stories, good friends and family converged often around the dinner table at the ranch or at his fishing lodge in Alaska.
David was preceded in death by his loving wife of 48 years, Jo Ann, and his parents, David and Gerda Cereghino. David is survived by his sister, Ruth Fisher; his children, Gina (Steve) Turnlund, Dave Cereghino, Mike (Jenna) Cereghino and Carrie Cereghino; his grandchildren, Brett, Paige, David, Alisha, Ashley, Darrell, Justin, Levi and Noah; nieces and nephews; cousins; and many close friends. In passing, David was grateful to his wife, Jo Ann, family, friends, and his neighbors on the Salmon River for helping him have a great life and fulfill a dream.
A graveside service was held on Feb. 28 at the ranch on John Day Creek in the Salmon River country he loved so well. The family suggests remembrances be made in David's name to Syringa Hospital Hospice Care Program, 607 W. Main, Grangeville ID 83530. Arrangements were handled by Blackmer Funeral Home in Grangeville. Condolences may be sent to the family at www.blackmerfuneral home.com.